Have you ever dreamed of waking up to a breathtaking view or taking a leisurely stroll with the horizon stretching before you as far as the eye can see? Many hotels in Bali offer this type of experience, particularly those situated on the cliffs of the island. This series presents 12 stunning cliff-top villas in Bali that are sure to take your breath away.
1

Alila Villas Uluwatu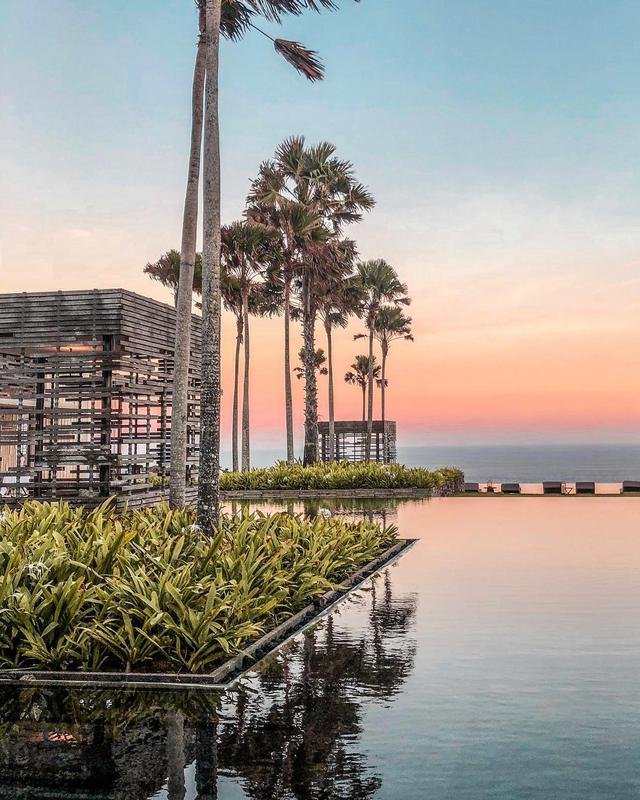 Photo by @samanthalin__
Crave the breathtaking view from the Alila Villas Uluwatu. Set on limestone cliffs at an elevation of 100 meters above the Indian Ocean, the resort is an ideal location to enjoy ocean vistas and glorious golden sunsets. It has a great resort ambiance and it's a perfect place to spend your relaxing worry-less day.
ALILA VILLAS ULUWATU
Jl. Belimbing Sari | Banjar Tambiyak, Desa Pecatu, Uluwatu 80364, Indonesia

IDR

15,596,000

(USD

1,054

) / room / night
Book via

2

Terrazza Plenilunio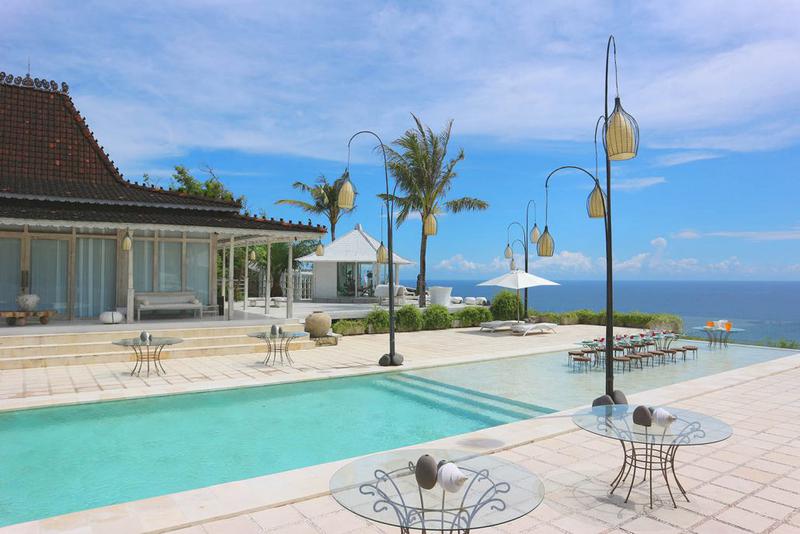 Photo by @villaplenilunio
When you dream for an outstanding villa sets atop Bali's high cliff, stay at the Villa Plenilunio. It gives you an impression of a stylish yet romantic escape amidst the tropical landscape. This Villa consists of ten bedrooms that is designed to offer a comfortable and luxurious living.
The fact that it stands handsomely on a cliff top-magic location, a 180 degree stunning view includes the pristine Nunggalan beach and beautiful sunsets do exist as an everyday greeting.
TERRAZZA PLENILUNIO
Jalan Batu Nunggalan, Uluwatu, Jimbaran, Bali, Indonesia

IDR

2,200,000

(USD

149

) / room / night
Book via


3

Villa Latitude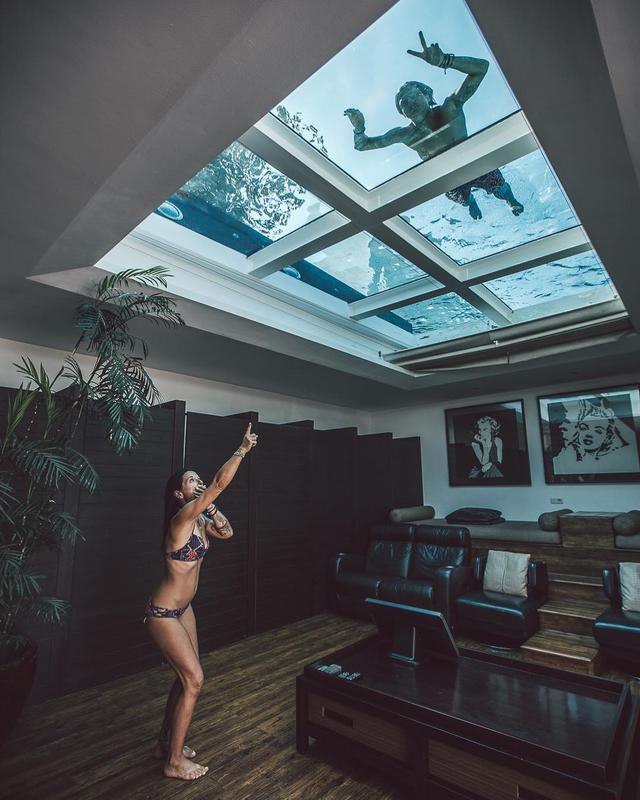 Photo by @akela.world
Wishing for a fabulously chic villa, check out this villa, the Latitude Bali! It shines with a minimalist concept that supported by iconic architecture that displays the impression of understated luxury. This villa offers a private dwelling with 6 stunning villa bedrooms for 12 people, of course, complete with a beautiful infinity swimming pool for chill out time. This is just right for an amazing family vacation.
VILLA LATITUDE
Karang Kembar Estate No. 1, Jalan Karang Putih, Desa Kutuh, Kuta Sel., Kabupaten Badung, Bali

Price :

starts from approx : USD 2,995/night
Book via

4

Villa Anugrah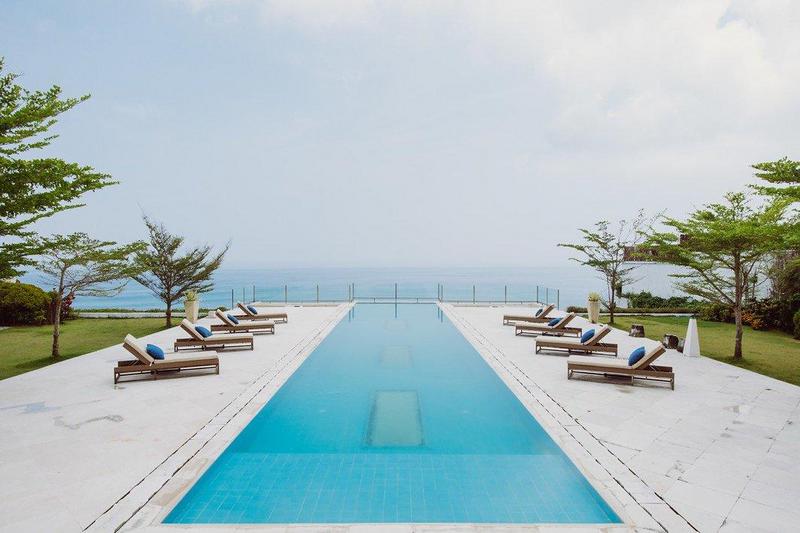 Photo by @villaanugrah
Villa Anugrah can also be an option for your wonderful Bali holiday. This villa has a unique architecture, incredible staff and jaw-dropping vistas. As the name 'Anugrah' means blessing, this villa is made with the hope that every guest will taste the beauty of opulent luxury and a harmonious blend of nature.
Guests served with spectacular Indian Ocean and if lucky they can see world-class surfers enjoying their dream-waves at the famous surf beach, Uluwatu. Moreover, this villa is also suitable for honeymooners or anyone who is looking for a small elegant wedding
VILLA ANUGRAH
Pantai Suluban Street Jl. Uluwatu No.6, Pecatu, South Kuta, Badung Regency, Bali

Price :

starts from approx : USD 2,435/night
Book via

5

The Edge Bali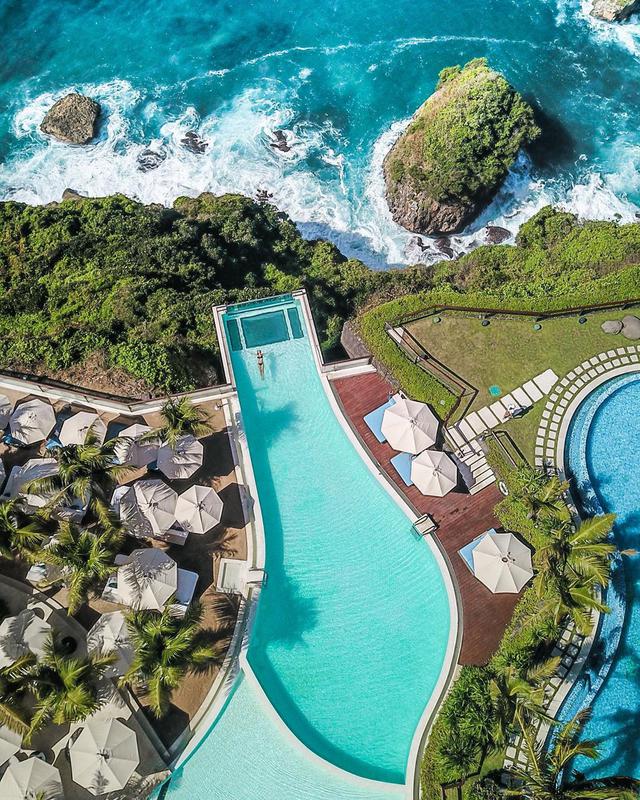 Photo by @davidauer_
Ever heard of The Edge Bali? Its iconic infinity glass swimming pool offers the sensation of swimming over cliffs and valleys; that makes this luxury villa has become one of the wish lists of Bali lovers. Waking up welcomed by breathtaking views of ocean views, who can resist it? It's just everyone's dream.
The luxurious interiors make it even worth every penny. However, if you are traveling with children, they may not enter the pool area due to safety reasons, and you have to take extra care of them!
THE EDGE BALI
Jl. Pura Goa Lempeh | Banjar Dinas Kangin, Pecatu 80364, Indonesia

IDR

20,008,000

(USD

1,352

) / room / night
Book via

6

Villa V Uluwatu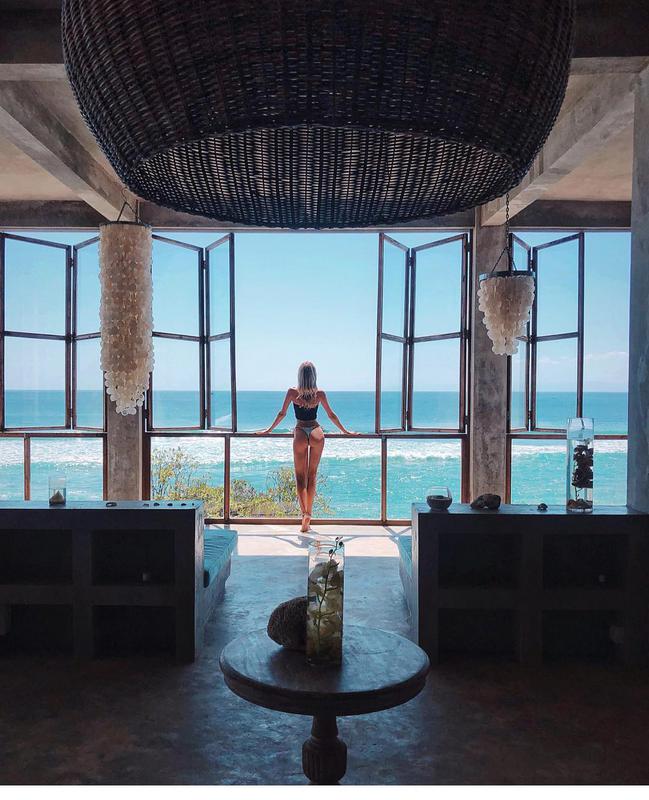 Photo by @veronika_pagan
If you dream of a heavenly secluded villa, it can be the Villa V Uluwatu. Situated on the most left side of Bingin Beach, the villa provides a stylish comfortable getaway with breathtaking views of the azure blue ocean and beautiful landscapes. The beach is about 300 steps down via a small cliff entrance. Its stunning location makes it one of the best spots to enjoy sunset in Bali. You can even have this stunning view from your very own villa room. Ready to add it to your bucket list?
VILLA V ULUWATU
Jalan Raya Uluwatu, Gang Tambak Sari 18 No 6A/6B, Jimbaran, Badung, Bali
IDR (USD ) / room / night
Book via

7

Morabito Art Cliff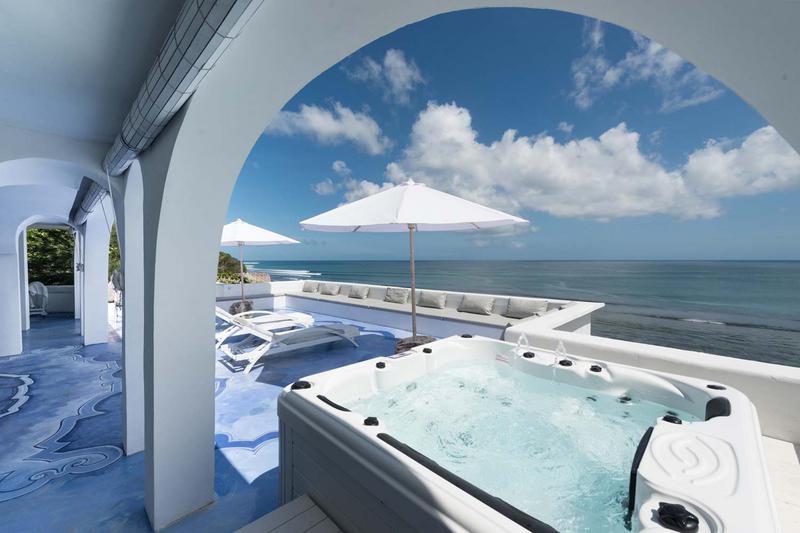 Photo by @morabitoartcliff
If you can't leave the idea of staying close to Bingin Beach, Morabito Art Cliff is another option you can consider. Designed by French, Pascal Morabito, the villa features five different style design with unique decoration referred to those famous destinations in each loft, such as: Santorini, Miami, Capri, Manhattan, and Cartagena.
The villa contemporary design also lends an amazing space to the villa room with splendid living area. This beautiful place is only 80 steps away from the beach that always brims dreamy vibes. It is an ideal location for a fabulous cliff top escape with your loved one.
MORABITO ART CLIFF
Jl. Pantai Bingin, Pecatu, Bingin, Bukit, Kabupaten Badung, Bali
IDR (USD ) / room / night
Book via

8

The Ungasan Clifftop Resort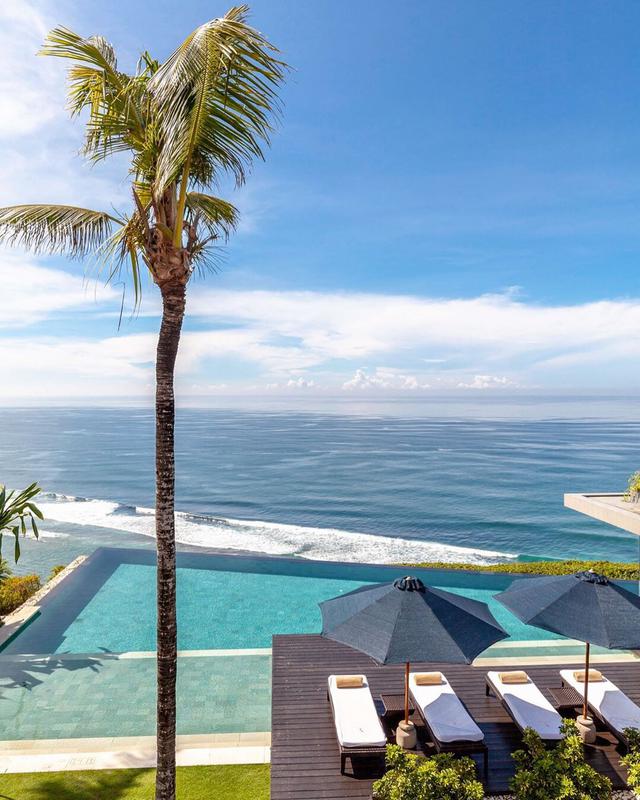 Photo by @theungasan
Other clifftop haven coming on the list is the Ungasan Clifftop Resort. This luxurious cliff-edged resort is about 150 meters above the Indian Ocean. The amazing location lends it stunning view of the beautiful surrounding landscapes.
This resort also offers a premium private luxury with private butler service that is set to make every stay remarkable. It is also a good choice if Uluwatu Temple is in your destinations list as the temple is within a short drive. Plus, their Sunday Beach Club is one of spectacular spots to experience an intimate escape with your beloved.
THE UNGASAN CLIFFTOP RESORT
Jl. Pantai Sel. Gau, Ungasan, Uluwatu, Kabupaten Badung,
IDR (USD ) / room / night
Book via

9

Pandawa Cliff Estate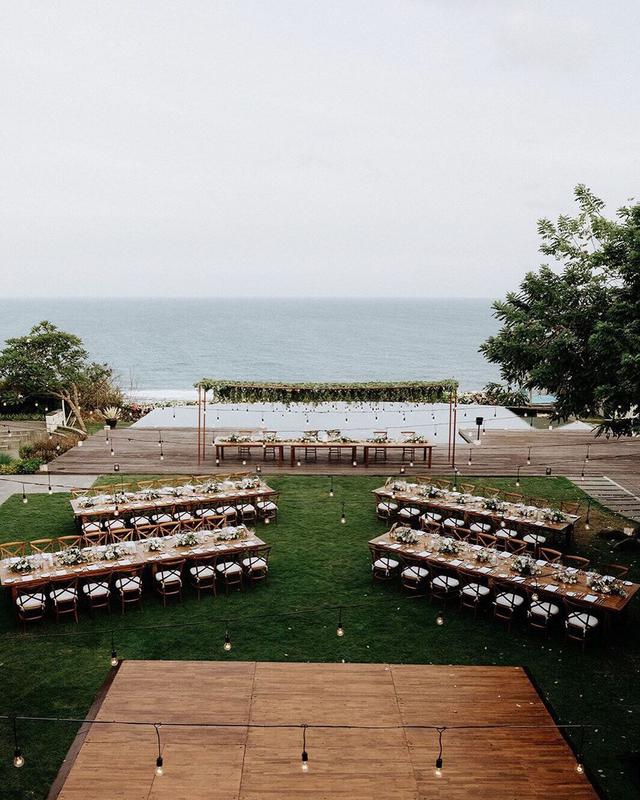 Photo by @balieventhire
Still at the Bali's cliff haven, the Pandawa Cliff Estate offers lavish villa room with international standard facilities. It is designed by internationally acclaimed Bali architect, Popo Danes, the villa is made with superb chic landscapes cliff-top gardens and extensive decked area. It also equips with fitness center, library, tennis court and spa to spoil your days in Bali.
Moreover, the professional team always ready to cater to your needs, starting from fabulous stay to astonishing events and weddings. It is located in Nusa Dua, about 2 kilometers away from the famous Pandawa Beach and 30 minutes away from the Ngurah Rai International Airport; perfect for honeymooners!
PANDAWA CLIFF ESTATE
Jl. Karang Putih No.18, Kutuh, Bukit, Kuta Selatan, Bali
IDR (USD ) / room / night
Book via

10

Tenang Villas Lembongan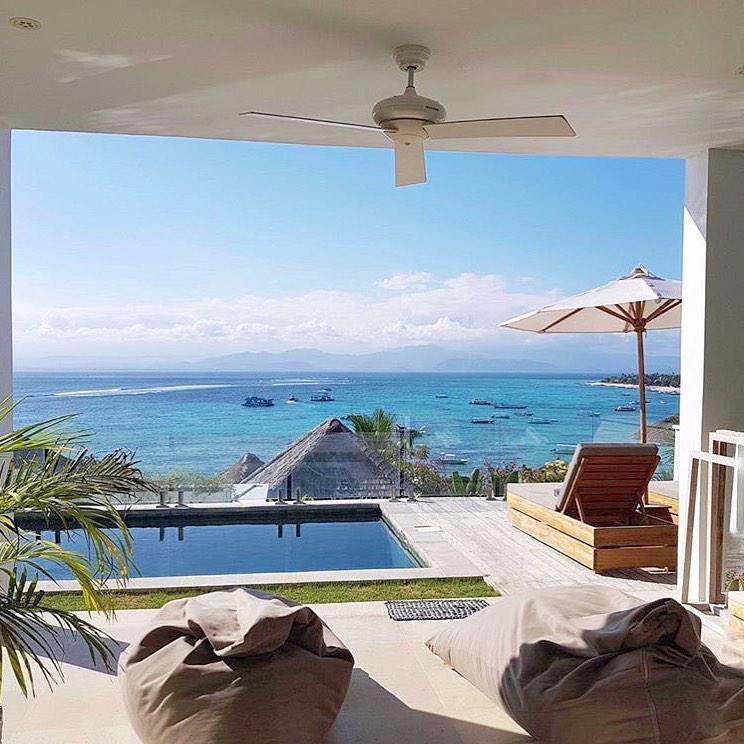 Photo by @tenangvillas
A little away from the main island of Bali, the small island in East Bali, Nusa Lembongan also brims with towering cliff that lends beautiful surrounding to the property built in the area. One of them is the Tenang Villas. Stand beautifully at the hill of Jungut Batu, the Tenang Villas offers jaw-dropping view of the ocean and the majestic Mount Agung in sight.
It is set about 600 meters from Crystal Bay and 2, 3 km from Mushroom Bay. If you want to visit other famous destinations like Devil's Tears, no worry, it is still a short drive away.
TENANG VILLAS LEMBONGAN
Banjar Kangin Jungut Batu, Jungutbatu, Nusapenida
IDR (USD ) / room / night
Book via

11

Bingin Cliff House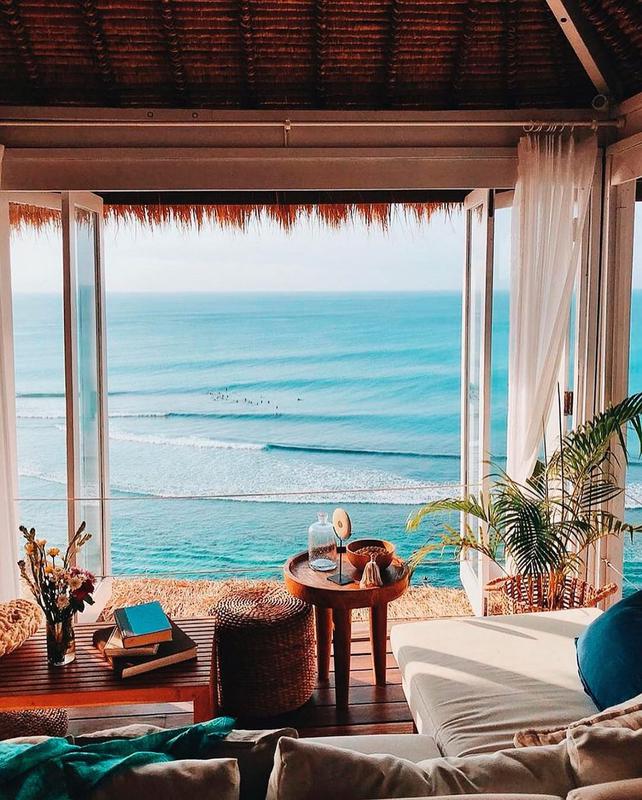 Photo by @bingincliffhouse
Back to Bingin Beach, the Bingin Cliff House is a beachfront escape complete with tropical foliage and expansive ocean views. The relaxing atmosphere spreads throughout the villa. The villa room sets above the dramatic cliff of Bingin, while the beach and surf just steps away.
The rooms are designed for full comfort and serenity. If you travel with groups, the villa also provides splendid area for family and friends to enjoy time together. Not forget to mention, it also has one of the best Bali sunset. So, are you ready to make your dream vacation come true?
BINGIN CLIFF HOUSE
Jl. Pantai Bingin, Pecatu, Kec. Kuta Sel., Kabupaten
- Google Maps

Price :

starts from approx : USD 340/night
12

Mandala The Rocks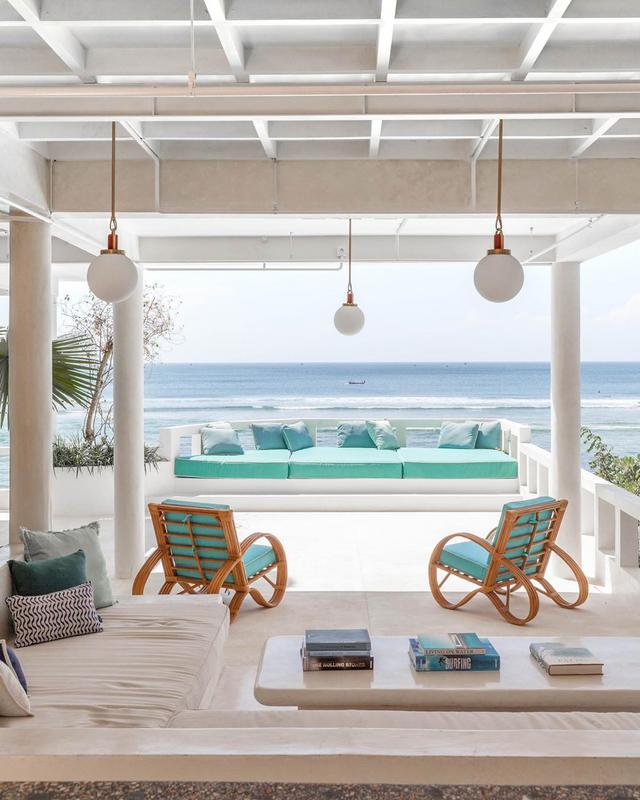 Photo by @mandalaplaces
The last but not least in our dreamy list is the Mandala The Rocks. This ocean-front luxury villa is set over one of Bali's spectacular settings, Uluwatu. The 5000 square feet villa own an unrestricted view of the iconic waves and beautiful tropical landscapes.
The six en suite bedrooms completed with private terrace that let guests enjoy the unrivaled sunset view. The villa also offers modern gym station, private bar and deck, and "surf-in surf-out" access. It is a perfect getaway for the ocean lovers.
MANDALA THE ROCKS
Jl. Labuan Sait, Pecatu, Kec. Kuta Sel., Kabupaten Badung,
IDR (USD ) / room / night
Book via

---