Bali is an ideal destination for a romantic getaway, offering stunning sunsets, secluded retreats, and exceptional dining experiences amidst unmatched natural beauty. As you plan your trip with your loved one, consider these 12 romantic activities to enjoy in Bali. From breathtaking sunset views to luxurious spas and fine dining, these suggestions will help you create lasting memories with your partner in this idyllic destination.
1

Wake Up In Tropical Rainforest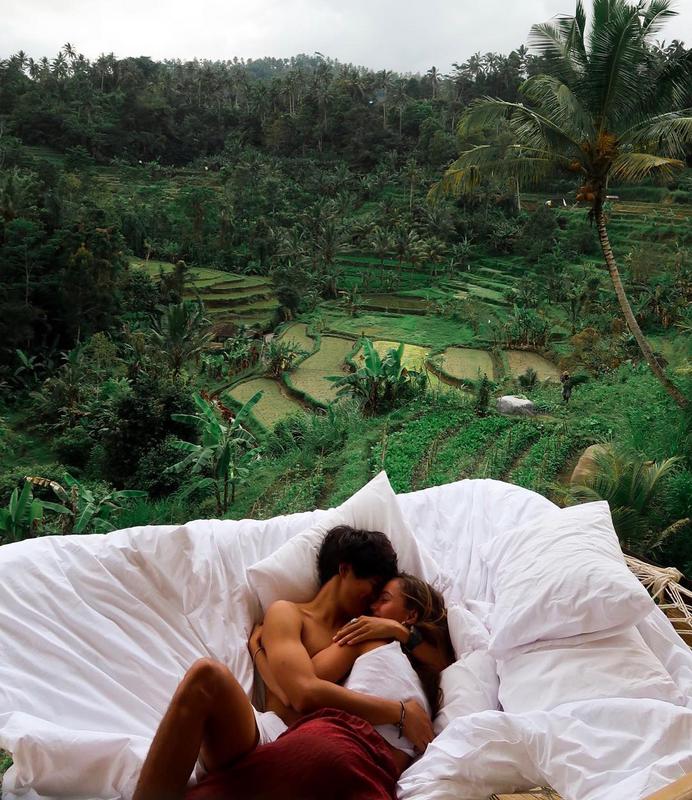 Photo by @inkawilliams
Have you ever thought of waking up amidst a serene rainforest? Looking at the towering trees, with fresh air and natural voices around, won't you feel it's a dream house you deserve? Bali can make your wish come true. Ubud and East Bali has all you need for a perfect jungle escape.
2

Romantic Candlelight Dinner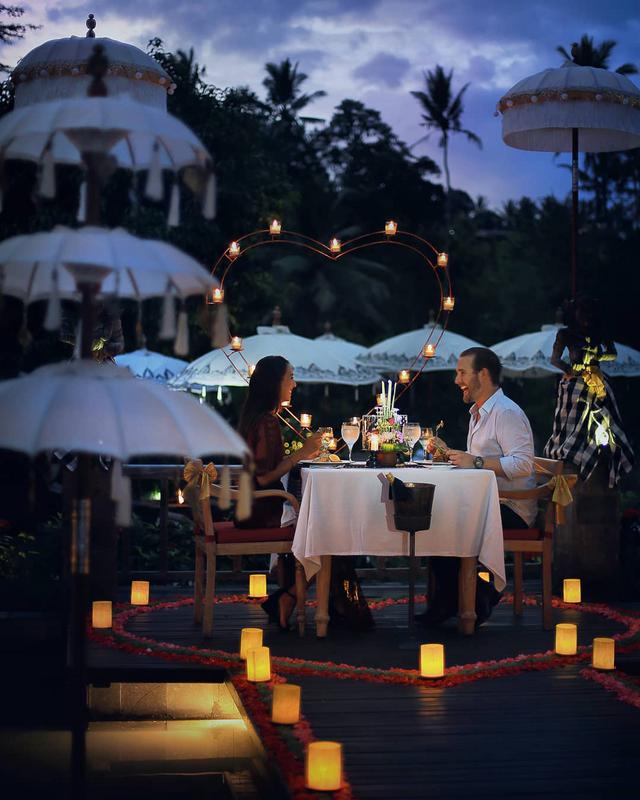 Photo by @thekayonresort
Romantic things won't go far from a passionate evening enjoy for two. Under the stars or within tailored venue, an exceptional dining experience would light up the romance! Candle light, flowers, and special delicacies; it's a simple way to show how much you care —and spoil in a perfect evening.

3

Watching Beautiful Sunset At Your Favorite Beach Club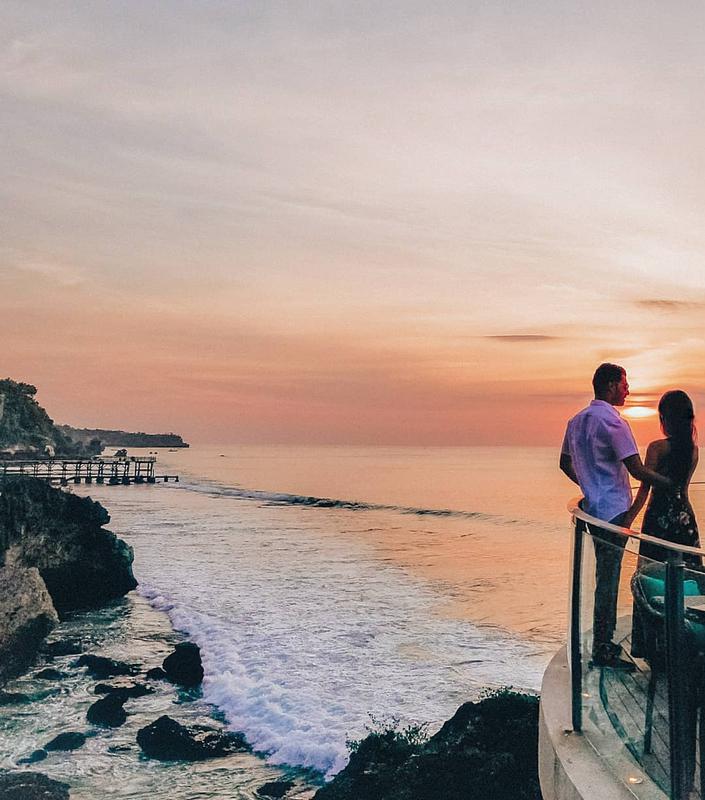 Photo by @farrahhoshmand
Sunset always suits the taste of romance and best enjoy by the beach. As you come to Bali, pick your favorite beach club for special golden time with your beloved; cocktail or wine and light bites, work best to company your quality time before the twilight!
4

Take A Picture On The Swing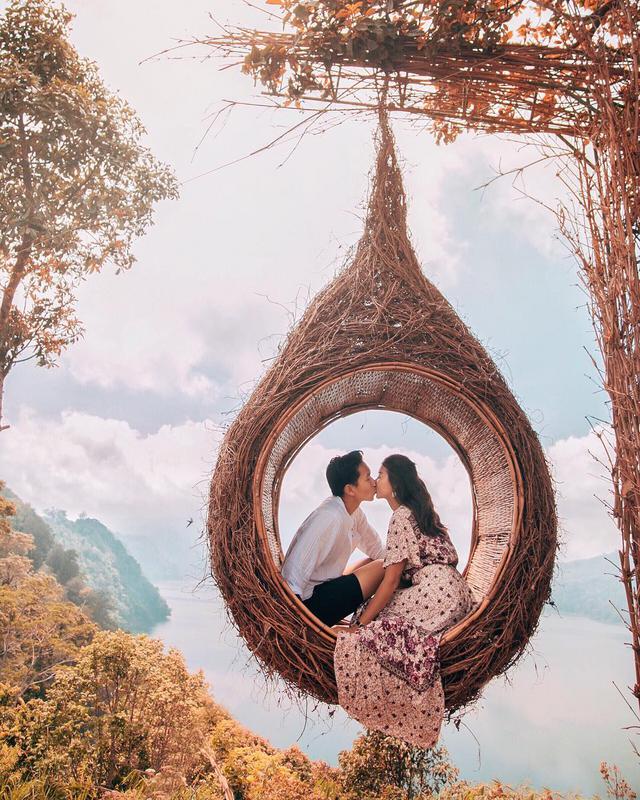 Photo by @amebeverly
Take your love up in the air! How about a love swing? Enjoying a once in a lifetime experience of swinging over the valley with him/her, will be a day never forgotten. Only you both can feel the romance though so don't forget to capture every moment possible!
5

Walking Through The Marigold Fields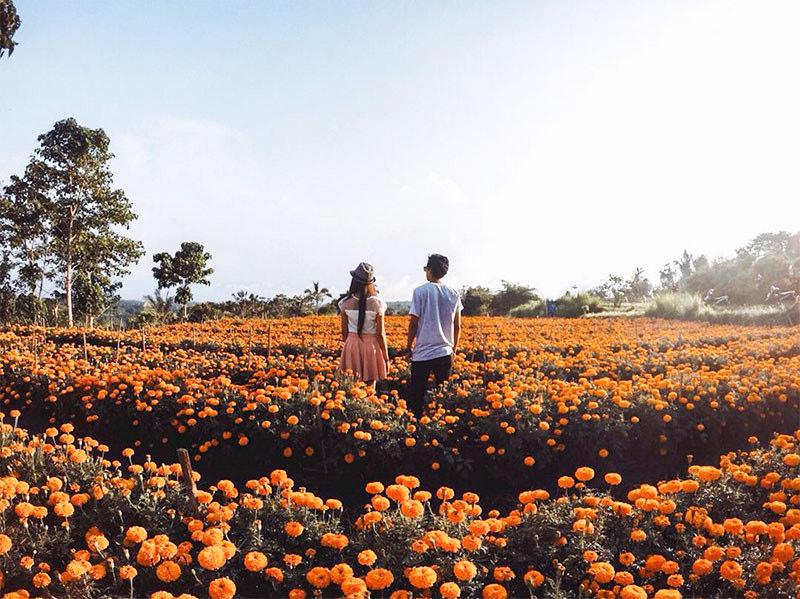 Photo by pinterest
Do you know that walking in the middle of the blooming marigold can be very romantic? East Bali and the area of Bedugul and Kintamani offer you this wonderful experience. If you commonly see it as part of offerings, now you can feel how the vibrant marigolds stretching in the fields where they are grown.

Some of the fields are owned by farmers which they plant for commercial purposes. So, if you want to visit one, do not forget to make sure that the flowers' not been harvested yet.
6

Get A Couple Massage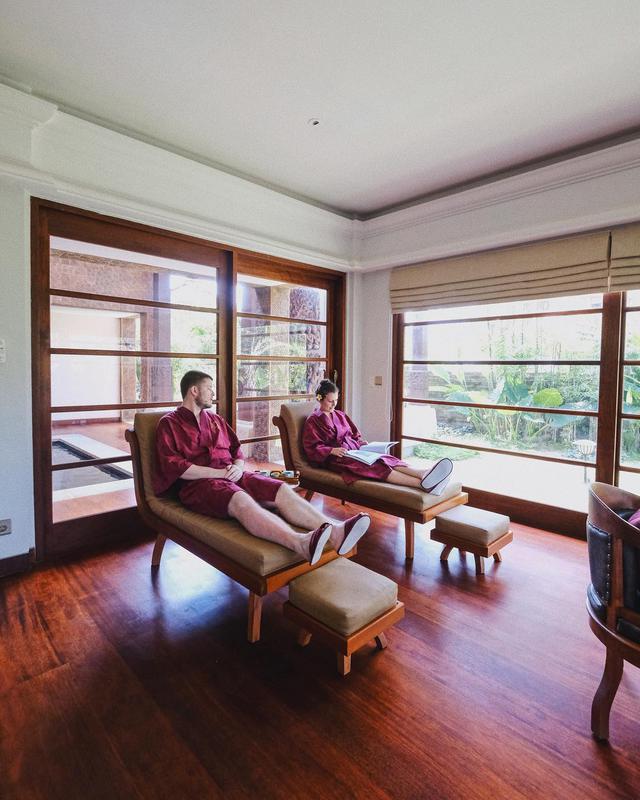 Photo by @pudakspa
Enjoying couple massage is another way to feel romantic. With your favorite treatment and the use of aromatheraphy fragrance, you can enjoy both relaxation and quality time with the one you cherish.
7

Take A Helicopter Tour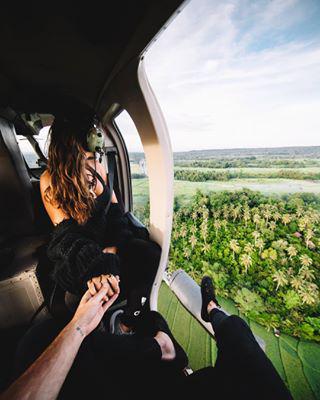 Photo by @samevanslife
Love is literary in the air! Create your love moment exceptionally romantic by taking your special someone to an exclusive private helicopter tour! Fly over this beautiful island and see Bali from a different point of view; a wonderful way to make a lifetime memories.
8

Floating Breakfast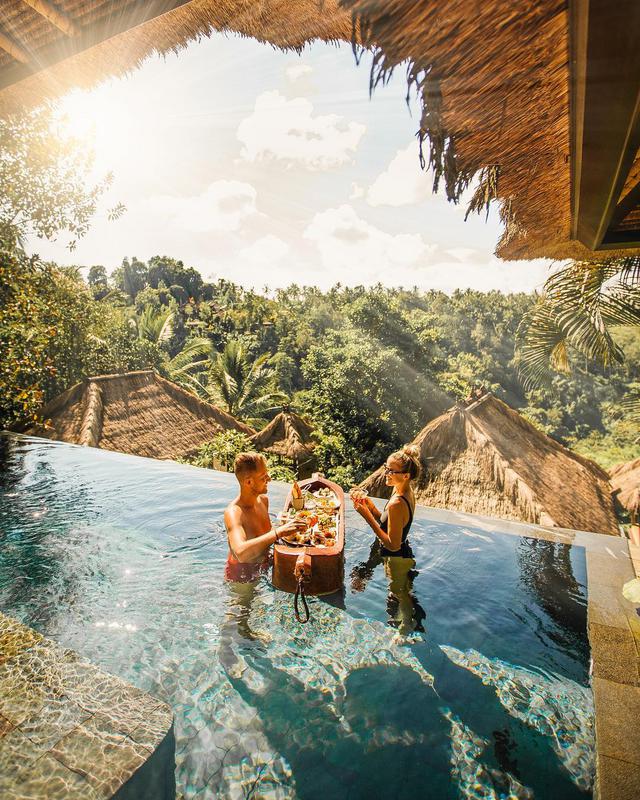 Photo by @leaguetravels
What do you think of floating with your breakfast in your private villa? Once in a beautiful morning with bites and special patisseries; this heavenly breakfast with view is something you deserve. Believe it, there's no better way to welcome the sunshine!
9

Swimming In A Waterfall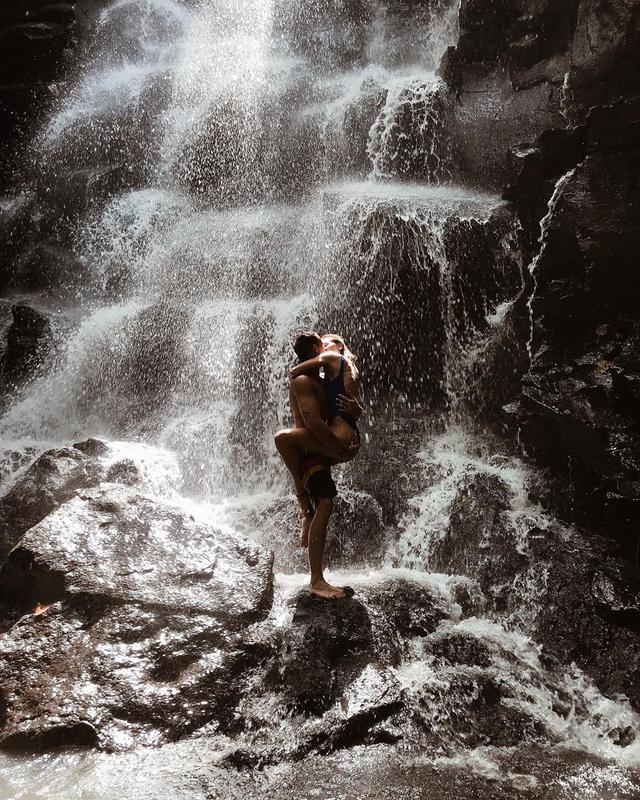 Photo by @annykosh
If you mention a waterfall, what do you imagine? Actually there are 2 ways to enjoy the waterfall: look at it and play in it. Swimming with your partner at the waterfall can be fun and fascinating. But do not try to swim if there has been a ban before, so choose the waterfall that is safe for swimming. Or better check out our package here!
10

Picnic On A Boat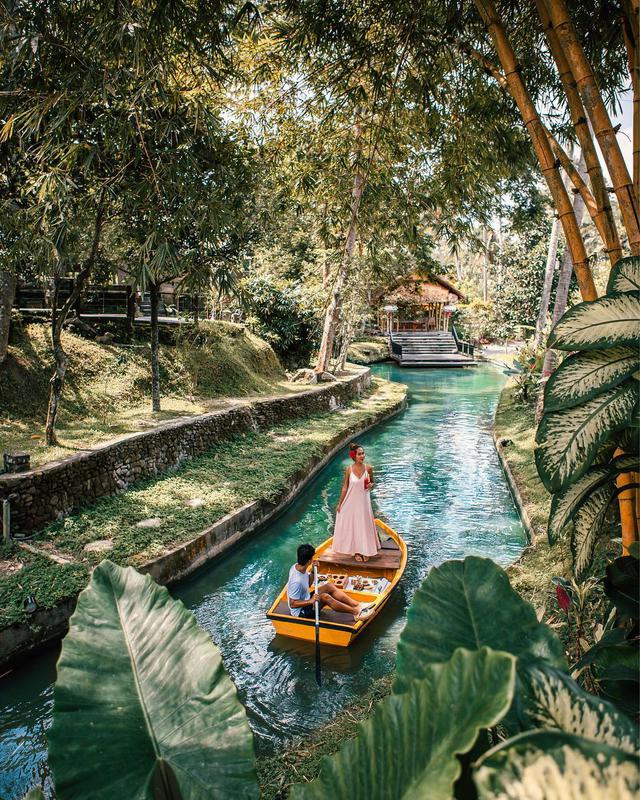 Photo by @ninjarod
A picnic is not always about green grassland, but you can also enjoy it on a private boat. With a budget starting at IDR 750,000 per person, you can enjoy a different picnic style in Bali. One of the bests can be tried in Ubud Area. Don't forget to invite your partner to make your day even more remarkable!
11

Escape To Nusa Penida Island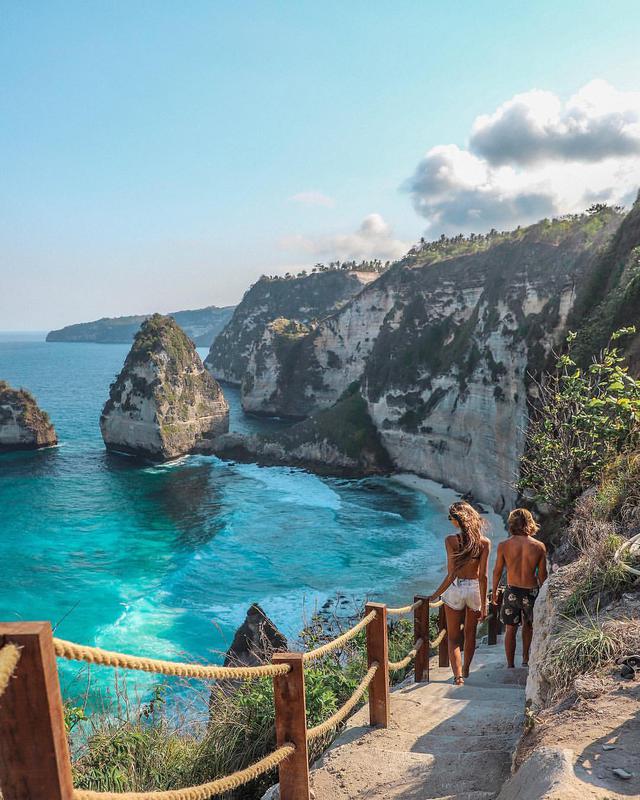 Photo by @panamericanbus
One exceptional activity that you can try with your partner is an escape to Nusa Penida Island. With the incomparable natural beauty, the atmosphere just smells of romance, let alone added a moment together with him in a less-touched nature; through crystal blue water, looking at that high coastal cliffs drop. Just imagining it has made the heart mesmerized. So, plan your romantic journey with us here!
12

Relaxing Outdoor Flower Bath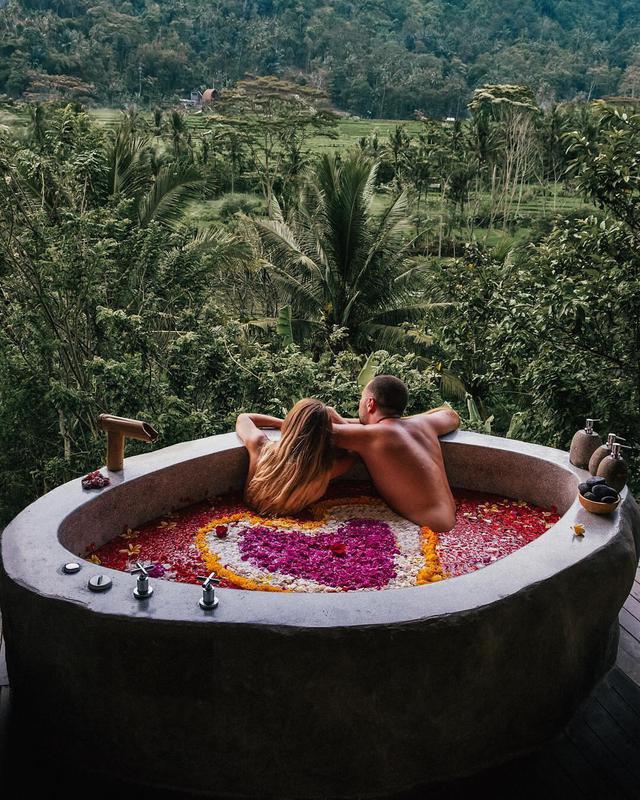 Photo by @thelosttwo
Can you imagine something more romantic than enjoying an outdoor flower bath with him? In a private villa, relaxing amidst the fresh air with a view that soothe the soul; somehow this becomes an extraordinary thing when done together with someone you love. Aha, can't ask for more!
---