As a well-known honeymoon destination, Bali is an ideal place for couples to escape to. This small island is renowned for its romantic atmosphere, rich culture, and breathtaking scenery, making it a perfect location for an intimate holiday. If you are planning a trip to Bali for your honeymoon, you may find our 7-day Bali Honeymoon Itinerary helpful in organizing your trip. With so much to see and do on this charming island, you are sure to have a memorable experience with your loved one.
1

Day 1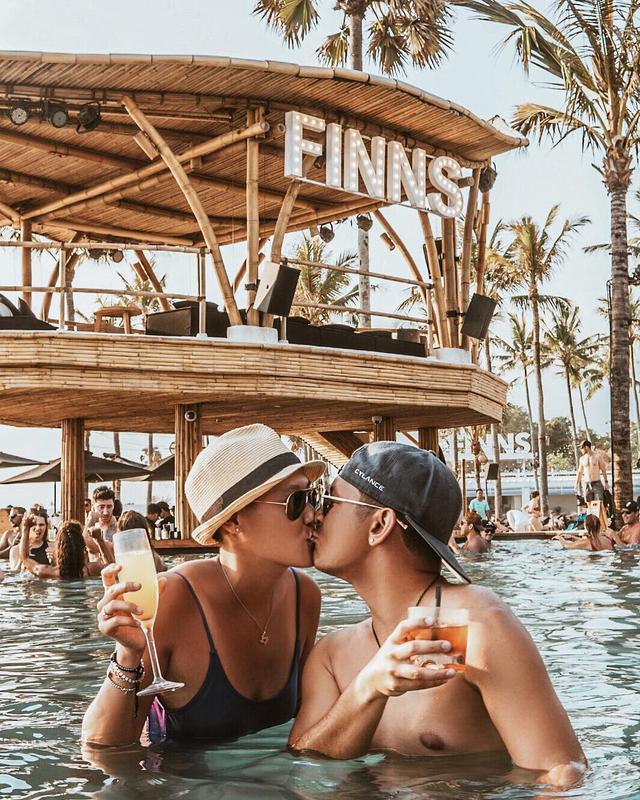 Finns Beach Club - Photo by @awaywithemily
Your first day in Bali must be as comfortable as it should be. Better book a hotel in Southern part of Bali like Seminyak or Nusa Dua. It's close to the airport thus it takes no more of your energy to get there. Also, let the hotel smoothen your arrival too; get it arrange your airport transfer, so you won't be busy getting your own taxi after landing.
As you just arrive, it should be okay if you just want to spend your day in the hotel only or make a little walk in the area nearby. Else, maybe checking some cafes or restaurants? Yet, while getting back your energy after a long flight, spend your time in a cozy café or watching your first stunning sunset in a fancy beach club would be perfect. A great start for a sexy beachy honeymoon, don't you think?
2

Day 2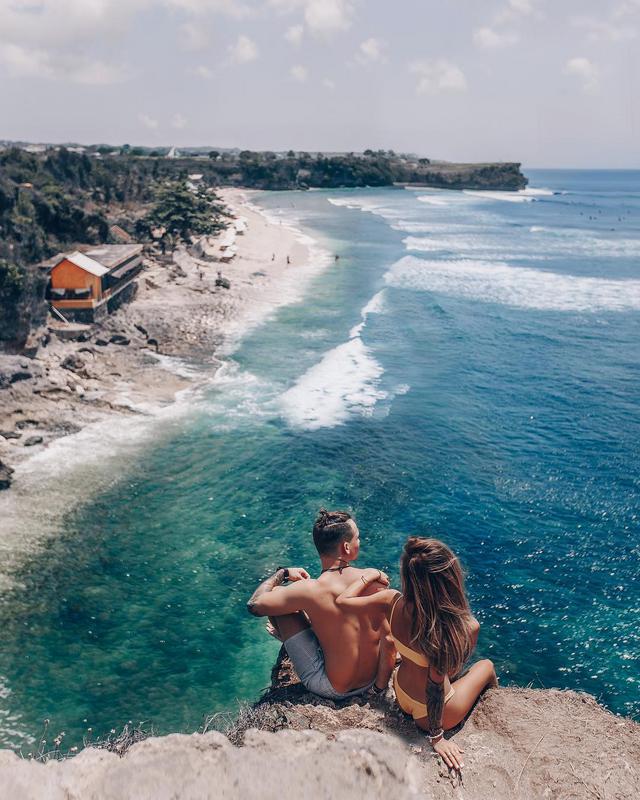 Balangan Beach - Photo by @smirnov_cinema
What do you think of an exploration to the southern tip of this beautiful island on your second day? Head to the Uluwatu Area and be surprised with the amazing landscapes here! Not only best for sight-seeing, get busy with its delightful activities. Like floating in your banana boat or trying the thrilling parasailing, or other water sports available at Tanjung Benoa.
You will also love its underwater being through Sea Walker or scuba diving. Otherwise, if you feel too nervous trying the water sport, a romantic walk along the beach is no less meaningful. Visit the secluded Balangan Beach or the Green Bowl. Both compromises peace of heaven and dreamy atmosphere that perfect for your special journey. In the afternoon, visiting the Uluwatu Temple is a great idea.
See for yourselves one of the important temples worshiped by Hindu Balinese. However, be careful with the monkeys that inhabit the temple area; they are playful and cheeky. Then perfectly close your evening with a romantic dinner at Jimbaran Bay!

3

Day 3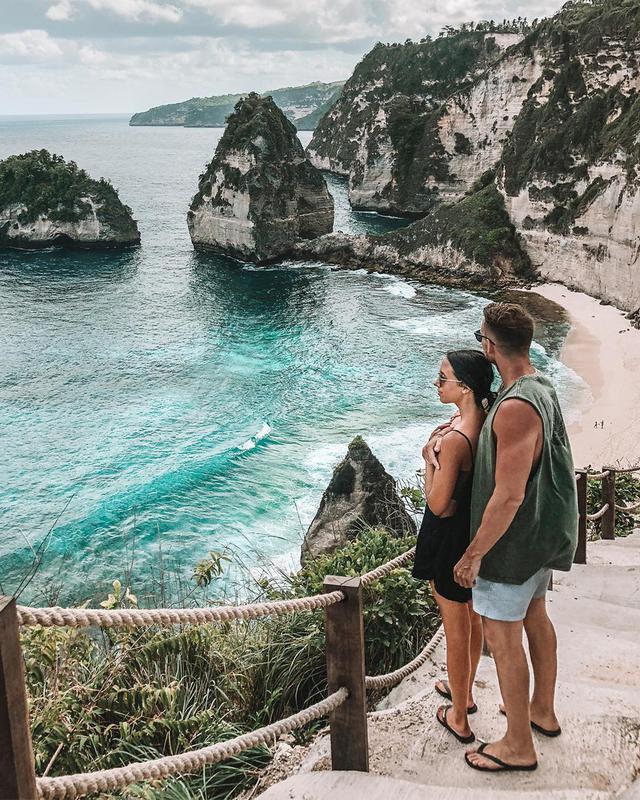 Diamond Beach - Photo by @danegerandstacey
Let's go a little further from your comfort zone on the third day! It's time for an adventure to the famous Nusa Penida Island! Its nature promises you inviting atmosphere and unbeatable beauty of both the island and underwater scenery. Don't miss the chance to meet the five-meters creatures, manta ray.
You may love the idea of trying the couple swing at Diamond Beach too. It will give you heavenly shot to remember your honeymoon! After that, if you are staying in this Island, go relaxing at the beach and wait for the sundown before getting back to the hotel. If not, back to Sanur by speed boat and at night, enjoy the richness of Indonesian delicacies at one of Indonesian restaurants nearby.
Some tips before you coming here: You will ride on a boat to get there, so don't forget to check and remember time for departure and arrival of your boat. Bring more cash - as it's not easy to find an ATM machine on the island. For a detailed guidance of Nusa Penida escape, see our deal Nusa Penida Trip
4

Day 4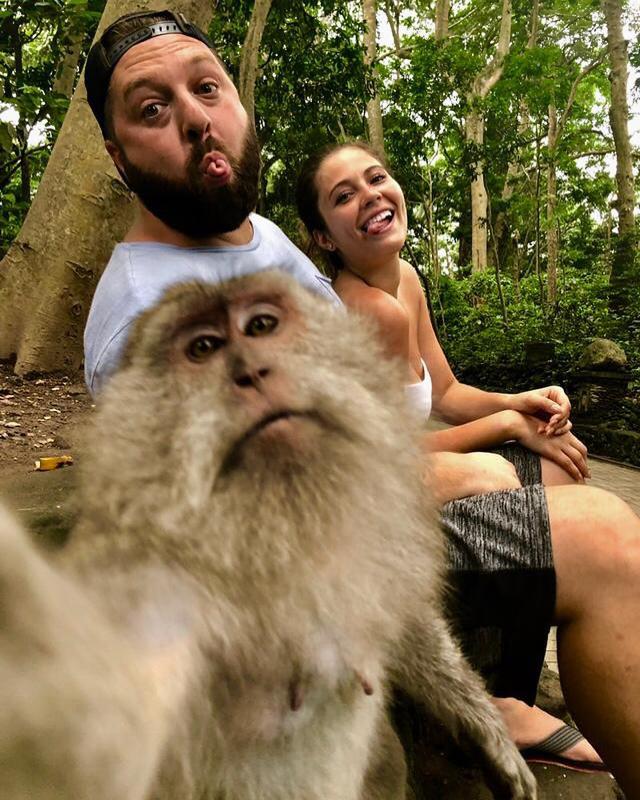 Monkey Forest - Photo by @sarahrosamenard
After all the adventurous days, get some blissful serenity in Ubud Area! Here is where cultural attractions unified with nature and artistry perspective.
Visit the sacred Monkey Forest sanctuary and meet the lively monkeys. They are as cheeky as those you met at the Uluwatu Temple, so watch your glasses and better keep your accessories home.The Saraswati Temple is also worth visiting,and if you want to get some souvenirs to bring home, go shopping at the Ubud Market; take all out your bargaining skill and get the best deal from the friendly shopkeeper.
Then, remember to get a special treatment for both of you at one of Ubud's spas. You can find them easily along the Ubud's pathways or you can book the SPA at luxury hotel that has amazing jungle view. This long day should end in a relaxing way, don't you think so?
5

Day 5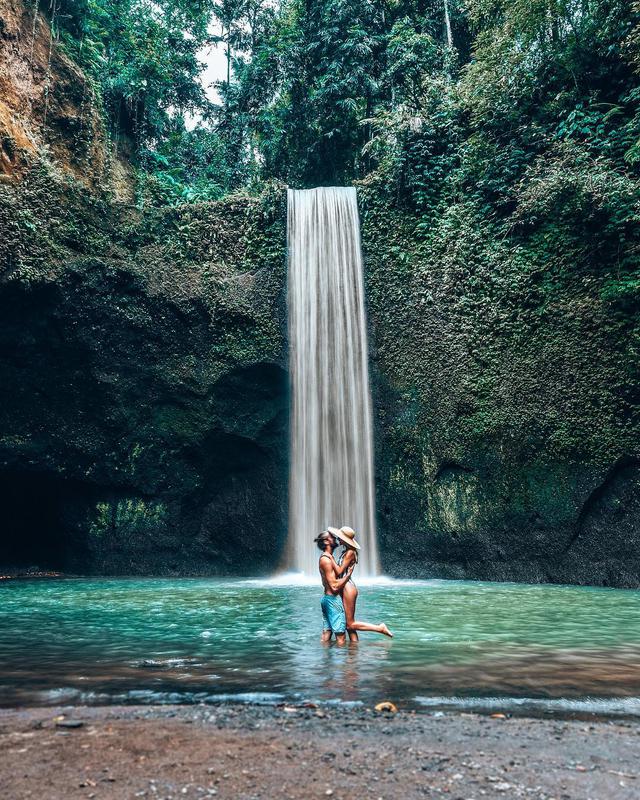 Tibumana Waterfall - Photo by @camillamilja
Still in Ubud Area, spend your fifth day trying some favorite experiences that this idyllic village offers you. Floating breakfast is one of those you can try. Almost all hotel and resort in Ubud provides this activity, even some allow outsider guests to enjoy it too.
The Bali swing is also favorite among visitors in Ubud. If you haven't done it in Nusa Penida Island, try it here! There is also one cultural activity that you can join. Ask your hotel if they have blessing activity or a visit to Tirta Empul Temple where Balinese do purification ritual in the holy water.
On your way back, pay a visit to one of waterfalls in Bali e.g. Tegenungan Waterfall. Or if you want to swim in the waterfall, try the Tibumana Waterfall; its water pressure is not as big as the Tegenungan Waterfall. But still, be careful!
6

Day 6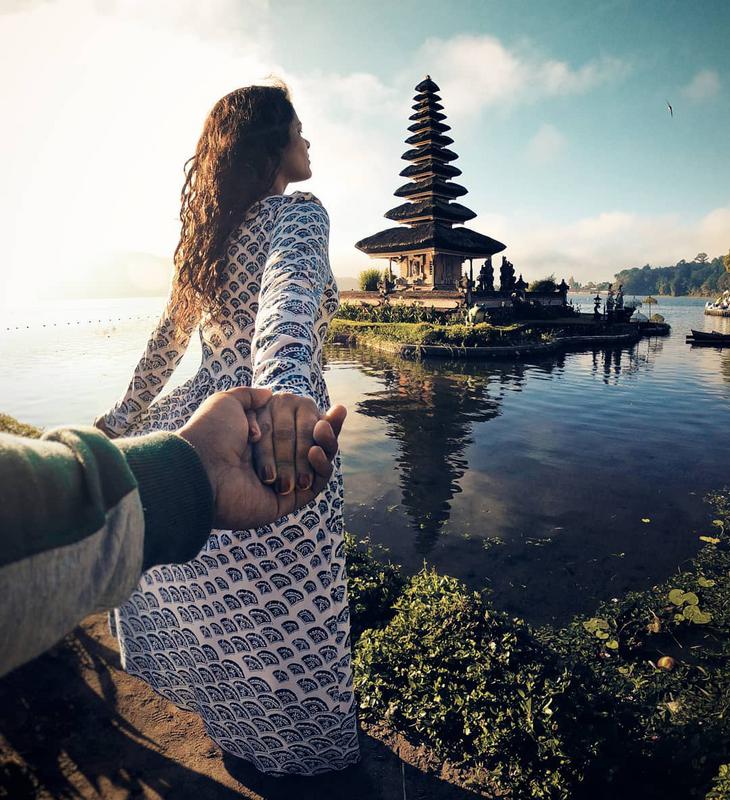 Ulun Danu Bratan Lake - Photo by @deomanish
Your sixth day in Bali should be filled with easy but remarkable activities. If you love taking pictures, visit the Ulun Danu Beratan Lake at Tabanan Area. On your way, stop by at Bali Handara Gate for a snap with the gate stand handsomely as your photo backdrop.
Spend your afternoon at Tanah Lot, another worshiped temple in Bali. The temple was built atop a cliff above the ocean. If the water is lessened, you may be able to see the colorful sacred sea snake that inhabit the cave under the temple.
Otherwise, if you wish for a fancy day, after spending your time at Tanah Lot, head to Canggu Area for lunch. Choose from instagrammable cafes around the area that suits you best. Then, swim and relax at the beach while waiting for sunset. Whichever you choose, have a romantic dinner to reward yourselves after a busy day!
7

Day 7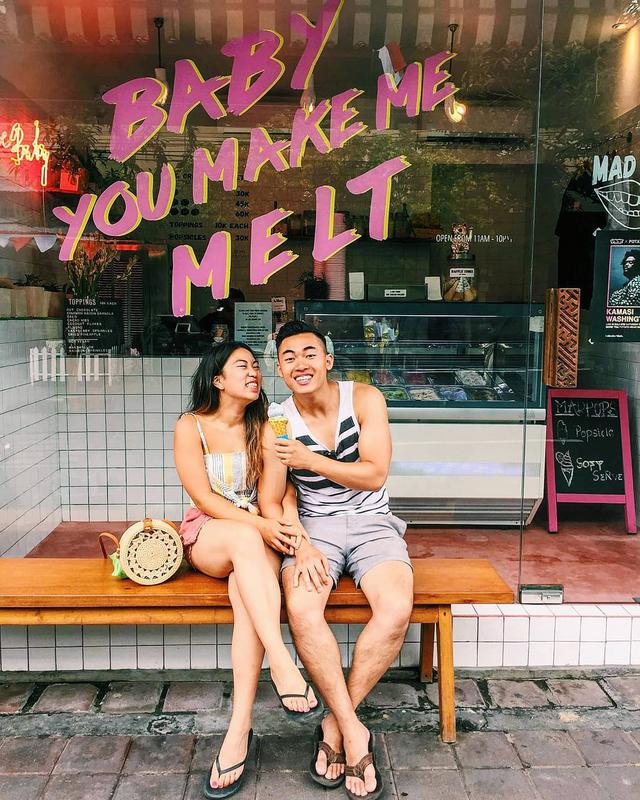 Photo by @emma.choo
Finally, it's close to your flight back home. It's better to save your energy and be as close as possible to the airport area. An easy date is perfect for your last day on this island.
Maybe getting some ice cream and talk about what you both experienced or which one is your favorite, could be as sweet as chocolate. Nothing is more special than spending your time with your beloved. As you think that every single thing on your honeymoon seem too good to be ended, the clock will tell you to get to the airport. It's time to go home dear.
Note: If you feel this itinerary is too packed, feel free to adjust it to your needs. Or, we can help you to create one tailor to your wishes. Drop us a message here or check our deals!
---