When many people think of Bali, the first thing that comes to mind is the beach. While the island's beaches are certainly a major attraction, there is much more to experience beyond surfing and sunbathing on the white sand. If you are planning a trip to Bali and want to try something unique and memorable, consider adding these 11 activities to your itinerary. From adventurous excursions to cultural experiences, these suggestions offer a range of exciting and unusual things to do on the island. Don't miss out on all that Bali has to offer – be sure to add these cool and unusual experiences to your itinerary.
1

Visit Trunyan Village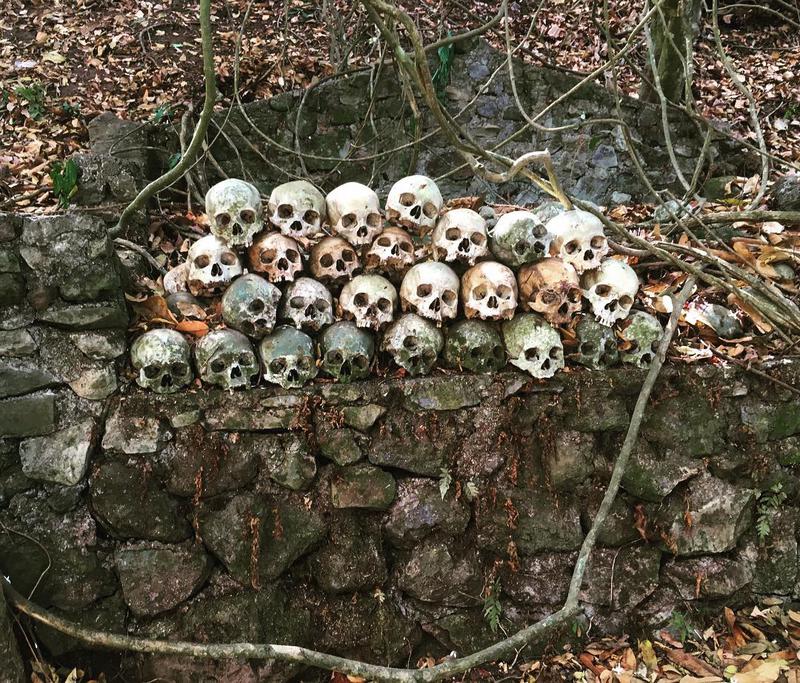 Photo by @p_lou
Dead bodies placed openly on the ground. Yes, that's what you'll find when visiting this Balinese village located on the eastern shore of Lake Batur, Kintamani. Trunyan is noted for its peculiar way of treating corpses. They lay it on the ground, simply covered with cloth and bamboo canopies, and left to decompose. An ancient Banyan Tree near the burial ground is believed to keep the corpses from smelling putrid. So, no, you won't smell what you expect from a number of dead bodies. And when you see a bunch of skulls around, mind you, they are real.
VISIT TRUNYAN VILLAGE
Eastern shore of Lake Batur, Kintamani.
- Google Maps

Entrance Fees : Boat Rent IDR 1,000,000 – IDR 1,200,000 (round trip, entrance fee and local guide included.)
Best time to go mid-morning – noon.
2

Drink Coffee Luwak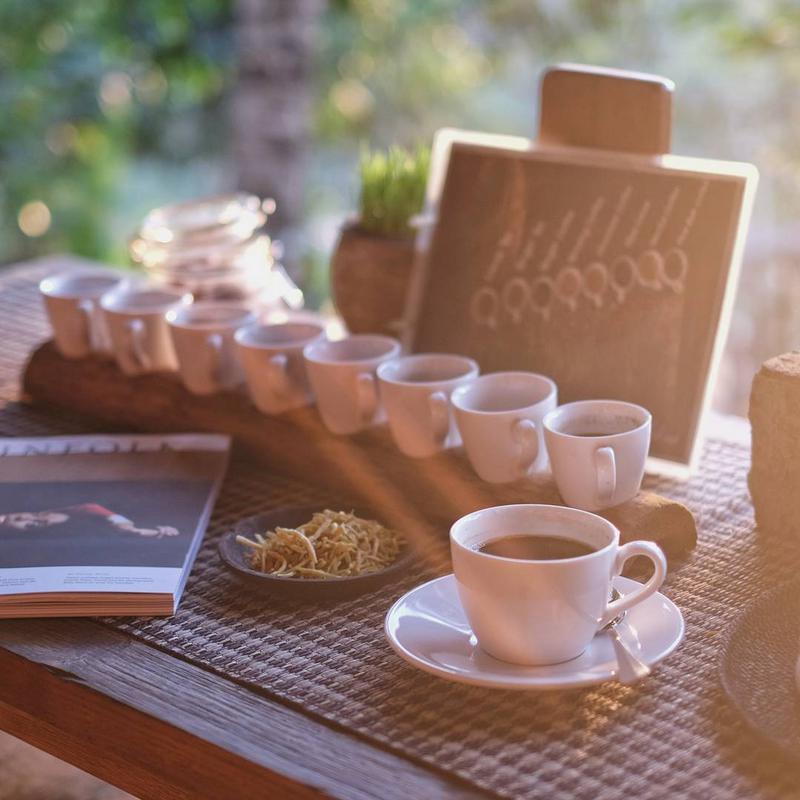 Photo by @kalvin.ping
Have you ever tried the world's most expensive coffee that's famous for its uncommon method of producing? Learn more about them and try a cup at Bali Pulina. With IDR 100,000 entrance fee, they'll walk you through the process of producing Luwak coffee and by the end of it, you'll get to enjoy a snack and a cup of coffee of your choice with magnificent green sceneries of Ubud right in front of you. Extra IDR 50,000 for a cup of Luwak coffee.
DRINK COFFEE LUWAK
Sebatu, Tegallalang, Gianyar.
- Google Maps

Entrance Fees : IDR 100,000
Best time to go 8 AM to 7 PM

3

Explore Goa Gala-Gala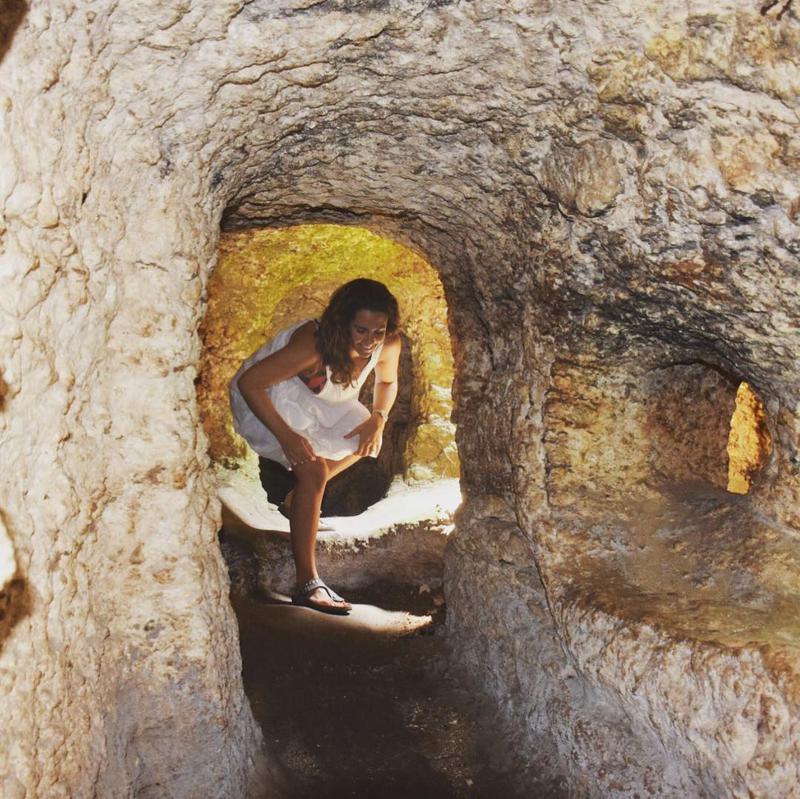 Photo by @c.abelairamlamas
Don't stop in the main island of Bali if you can travel to the small islands around like Nusa Lembongan where you can visit an underground house that is inspired from the Mahabharata. Built in 1961, it may feel like a maze at first, but then you'll find spaces such as dining room, bedroom, living room, and more that makes it somewhat homey. In here, you can experience a uniqueness that you may not able to find somewhere else.
EXPLORE GOA GALA-GALA
Lembongan island.
- Google Maps

Entrance Fees : IDR 20,000
Best time to go Anytime of the day 9 AM to 5 PM
4

Visit Bat Cave Temple/Goa Lawah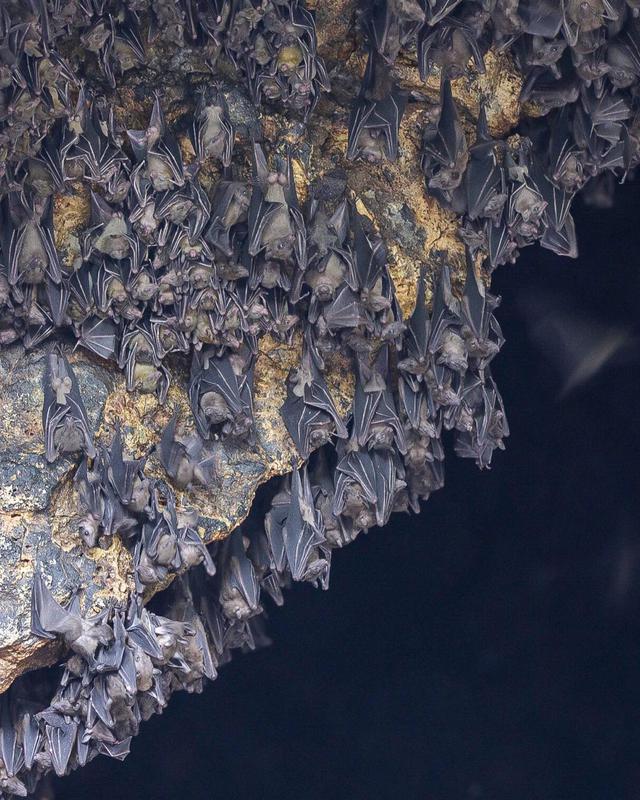 Photo by @nadine_lucas
Located at the south east coast of Bali, roughly 10km south of Candidasa, Goa Lawah is one of Bali's most important temples. Built in 11th century by Dang Hyang Nirartha, the cave temple is also home to thousands of bats, and according to local legend, a giant king snake.

The best time to visit is in the mornings if you want to witness the locals come for their daily prayers. Afternoons are fine too, as the weather is friendlier and the large trees will provide a nice shade to cool down.
VISIT BAT CAVE TEMPLE/GOA LAWAH
Jl. Raya Goa Lawah, Pesinggahan, Klungkung.
- Google Maps

Entrance Fees : IDR 30,000
Best time to go early morning or late afternoon.
5

Take A Selfie With The Abandoned Aircraft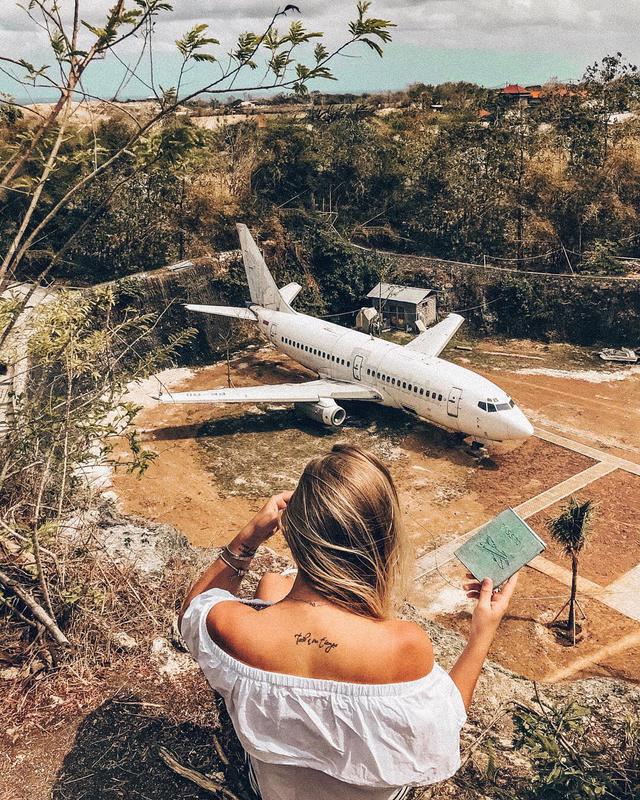 Photo by @alexandragladkih
Picture this: a legit Boeing 737 abandoned on an open space, in residential area, next to a big street, and no one knows how it got there. Who owns it, why is it there, is there a future plan for it, are some of the questions no one can answer. Located in South Kuta, in a secluded field that has been gated off and under regular surveillance. It has become quite the tourist attraction for travellers, consistently drawing visitors eager to take selfie with the mysterious plane.
TAKE A SELFIE WITH THE ABANDONED AIRCRAFT
Kutuh, South Kuta, Badung Regency, Bali
- Google Maps

Entrance Fees : Free
Best time to go during the golden hours usually after Sunrise or before Sunset
6

Dive In The Underwater Pemuteran Temple Garden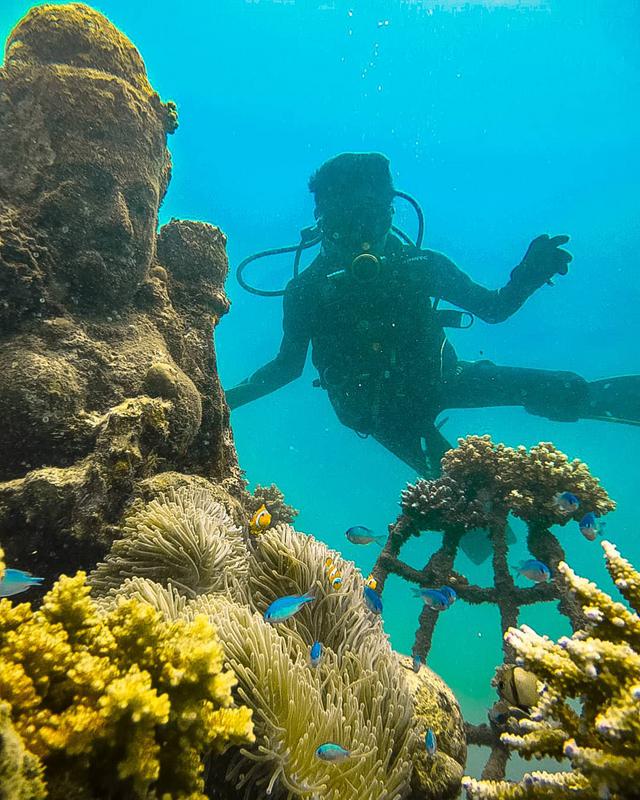 Photo by @billy_sumacer
Are you fond of life underwater? Then you shouldn't miss this unique dive site located in Pemuteran Bay, on the northern coast of West Bali, where you'll find a magnificent Balinese Hindu temple underwater. The main area is located about 30m under the sea, but if you're not comfortable going in that deep, there is a second section at 15m depth with statue heads sitting in communion. Speculative stories emerged about this place saying that it's an ancient archaeological site. Some even believed that the 'Atlantis of the East' had been discovered. In truth, it's one of the Reef Gardeners projects that was built in 2005. Nonetheless, it definitely should be on your go-to list if you're around.
DIVE IN THE UNDERWATER PEMUTERAN TEMPLE GARDEN
Desa Pemuteran, Gerokgak

Entrance Fees : IDR 700,000 for 1x Dive at Pemuteran
Best time to go December – February
7

Admire The Beachside Waterfall At Melasti Beach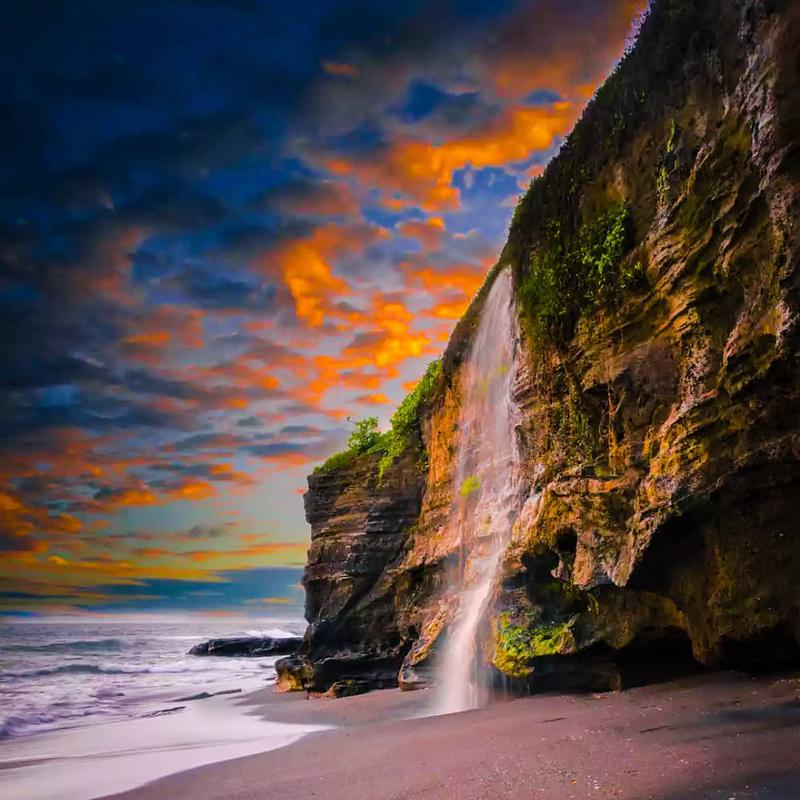 Photo by @end.one.bali
If you can't decide whether you want to see a waterfall or go to a beach, Melasti Beach near Tanah Lot is the answer. Only 15 minutes-walk from the famous temple, this beautiful rather quiet beach will certainly be the highlight of your trip. Best time to visit is in the afternoon as it is one of the best places to watch sunset.
ADMIRE THE BEACHSIDE WATERFALL AT MELASTI BEACH
Beraban Village, Tabanan
- Google Maps

Entrance Fees : Free
Best time to go Late afternoon
8

Cleanse Your Soul In The Holy Waters Of Tirta Empul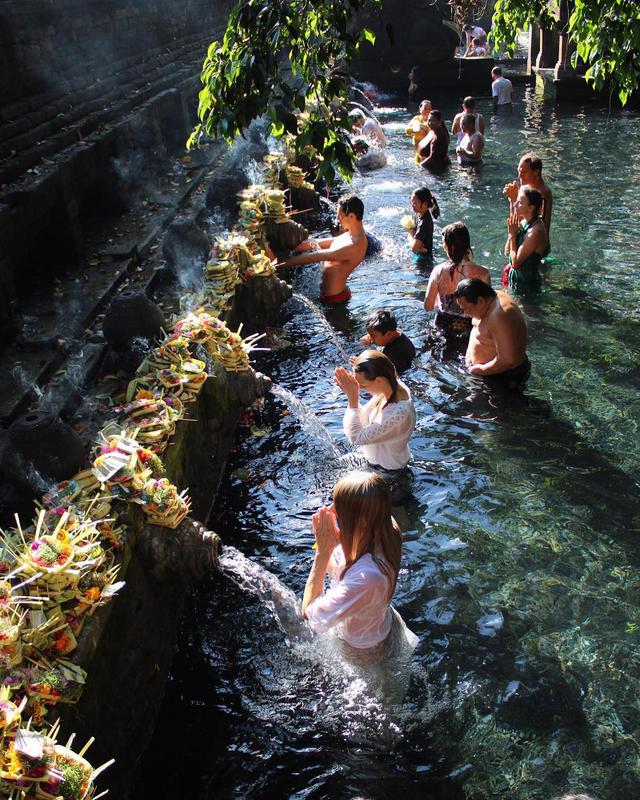 Photo by @letravelgram
For over a thousand years, Balinese Hindu worshipers have been coming to this sacred spot to purify their souls and ward off evil. Located in the village of Manukaya, near the town of Tampaksiring, tourists from all over the world come to experience a truly special cultural tradition. Opens at 9 am, seven days a week, you can visit Tirta Empul and cleanse your soul.
CLEANSE YOUR SOUL IN THE HOLY WATERS OF TIRTA EMPUL
Jl Tirta, Manukaya, Tampaksiring, Gianyar.
- Google Maps

Entrance Fees : IDR 15,000 for adults; IDR 7,500 for children
Best time to go Late afternoon
9

Get An Adrenaline Rush At Abyss Zipline In Ceningan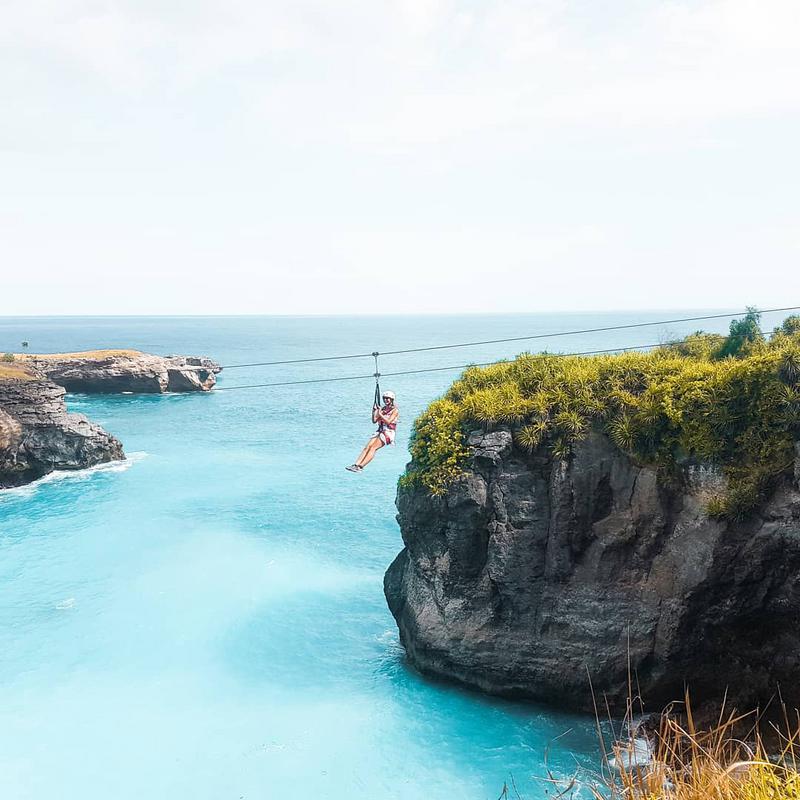 Photo by @sunnies_and_sandals
If you're going to Nusa Penida, make sure to stop by at Nusa Ceningan, the smaller island nearby. And if you have the courage, try the exciting zipline that sends you hurtling across an abyss sixty feet above the ocean. It's basically flying fox on a whole other level with grandiose view. Definitely YouTube video worthy.
GET AN ADRENALINE RUSH AT ABYSS ZIPLINE IN CENINGAN
Nusa Ceningan island
- Google Maps

Entrance Fees : IDR 100,000/ride
Best time to go Anytime of the day between 9 AM to 4 PM
10

Paragliding For Adventure Seekers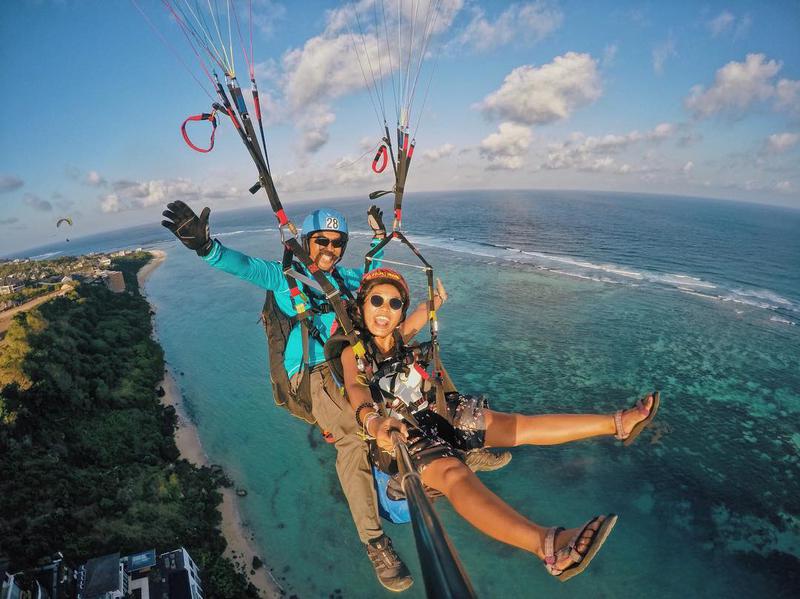 Photo by @satyawinnie
No doubt that one of the best things to do when traveling to Bali is to try paragliding. The ocean beneath you, the sun setting on the horizon in front of you, as you experiencing the freedom and feeling of flying that will certainly be a memory you'll forever treasure. The flight usually takes place over Pandawa beach and Nusa Dua for about 10 to 15 minutes. Believe us, that could be the best quarter-hour of your life.
PARAGLIDING FOR ADVENTURE SEEKERS
Jl Gunung Payung, Nusa Dua
- Google Maps

Entrance Fees : around IDR 1,000,000
Best time to go Late afternoon
11

Swim With Mantas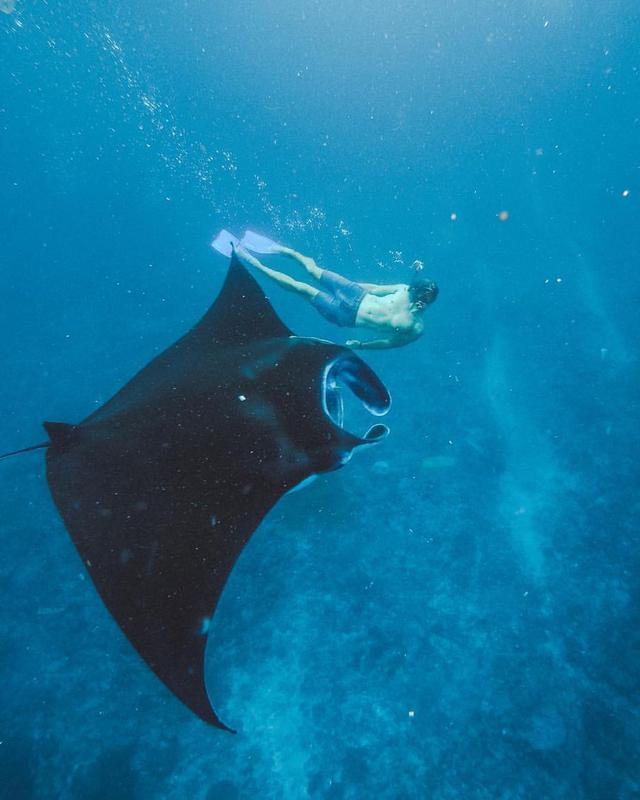 Photo by @paupalau
The most thrilling activity on this list will be this one. Don't get us wrong, manta ray isn't dangerous, although for some people it's still a pretty intimidating 5-meter creature. In fact, they are happy animals that love to swim in groups and dancing underwater. You don't even have to go down very deep to live this unforgettable experience of being among manta rays as if you're part of their group. Manta rays can be seen throughout the year at Manta Point, you can also join our snorkeling trip
SWIM WITH MANTAS
Nusa Penida
- Google Maps

Entrance Fees : 1 day snorkeling trip to Manta Point starts from IDR 585,000
Best time to go morning departing from Sanur
---