Bali's photo spots are endless. From stunning balinese temple architecture to sandy beaches and rice fields, you can get some seriously cool snaps from this tropical Island. Make your friends envy with you by capturing your moment on these 11 most Instagrammable Spots in Bali
1

Bali Handara Gate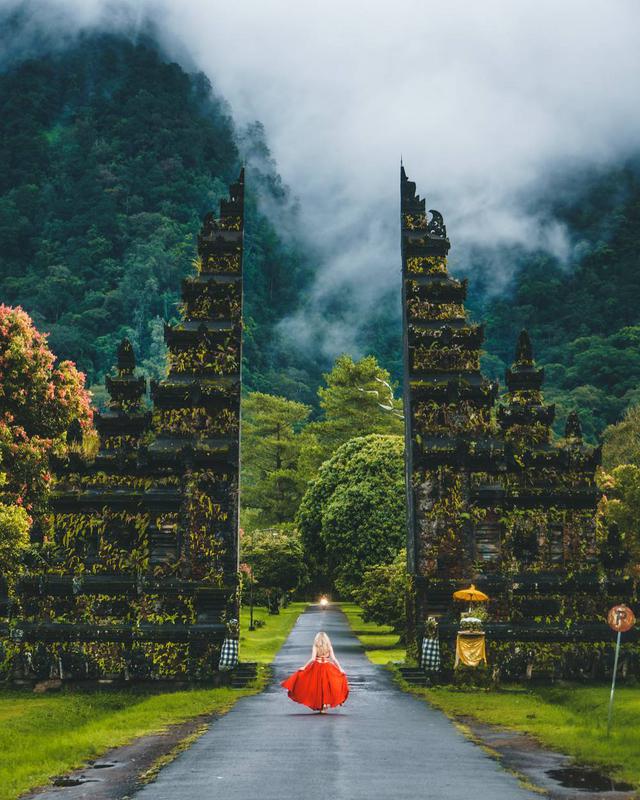 Photo by @ollivves
Built in 1980, Handara Golf & Resort Bali is a distinct addition to the city's skyline. Handara is your One-Stop Golf Resort offerings a world class golf course with beautiful setting, cozy accommodation. The gate of Bali Handara now become one of the iconic spot to take a picture in Bali.
BALI HANDARA GATE
Desa Singaraja-Denpasar, Pancasari, Sukasada, Pancasari, Buleleng, Kabupaten Buleleng, Bali
- Google Maps

Entrance Fees : IDR 30,000
Best time to go: early morning
2

Ubud Art Traditional Market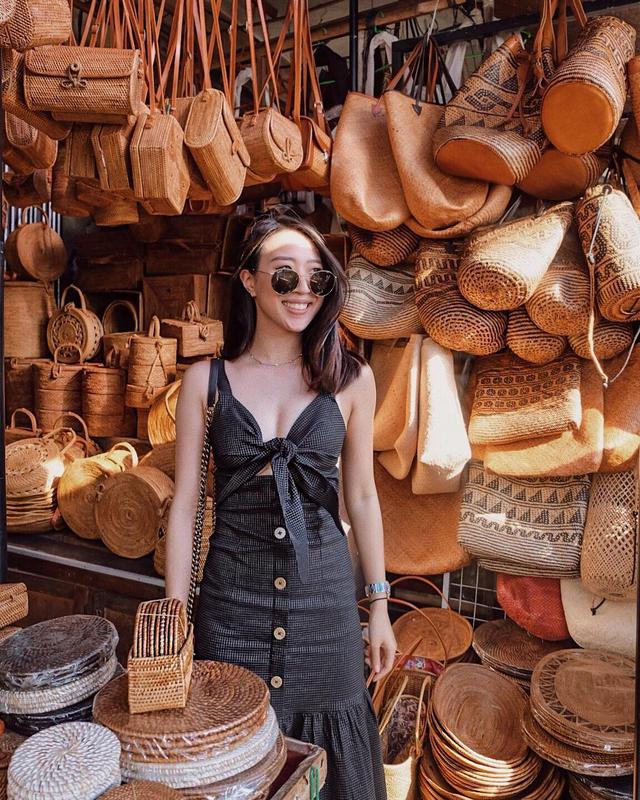 Photo by @emilyjaury
Have you get some souvenirs from Bali? You can get them at Ubud Art Market where they sell these bags and it is a bargain market. Some souvenirs you will see here are paintings, sculptures, clothing, homewares and more! This market is also known as Instagrammable spot in Ubud.
UBUD ART TRADITIONAL MARKET
Jalan Raya Ubud, Ubud, Gianyar, Bali
- Google Maps

Entrance Fees : Free
Best time to go: 8AM to 6PM

3

Tegalalang Rice Terrace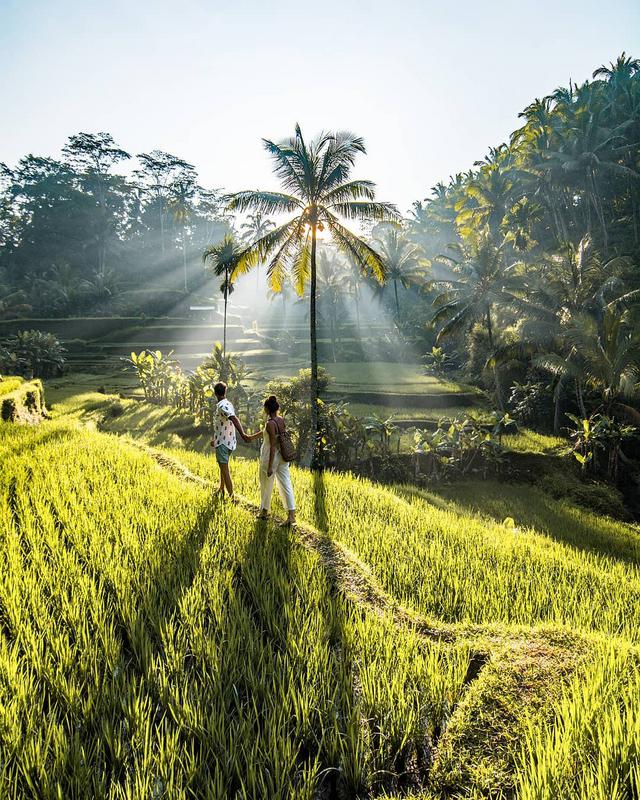 Photo by @whereisnikita
Tegallalang Rice Terraces in Ubud is famous for its beautiful scenery of rice paddies involving the subak (traditional Balinese cooperative irrigation system). The site is cool and breezy, well known spot for tourists to take pictures and made popular as it is also a film site for movie 'Eat, Pray, Love'. Located in the center of Bali, Tegalalang Village is 10-minute drive from Ubud City.
TEGALALANG RICE TERRACE
Jalan Raya Tegalalang, Ubud, Gianyar, Bali
- Google Maps

Entrance Fees : Donation
Best time to go: early in the morning before 10 AM or late afternoon
4

Lempuyang Temple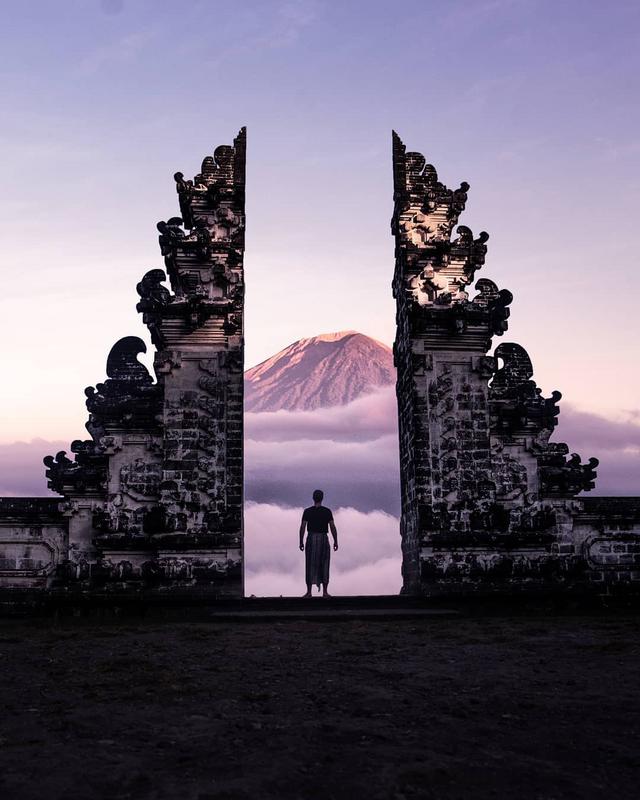 Photo by @marcel.bhm
Lempuyang Temple or Pura Lempuyang Luhur is one of Bali's 9 key directional temples which is located at the summit of Belibis Hill at Karangasem Regency. If you are from Kuta or Seminyak Area, it's about 2.5 - 3 hours get here. This temple is also known as " The Temple of Thousands Steps ". However, it's totally worth it for your Instagram feeds.
LEMPUYANG TEMPLE
Jalan Pura Telaga Mas Lempuyang, Tri Buana, Kec. Karangasem, Kabupaten Karangasem, Bali
- Google Maps

Entrance Fees : Donation, IDR 10,000 for saroong
Best time to go: 4PM to sunset time
5

Tirta Gangga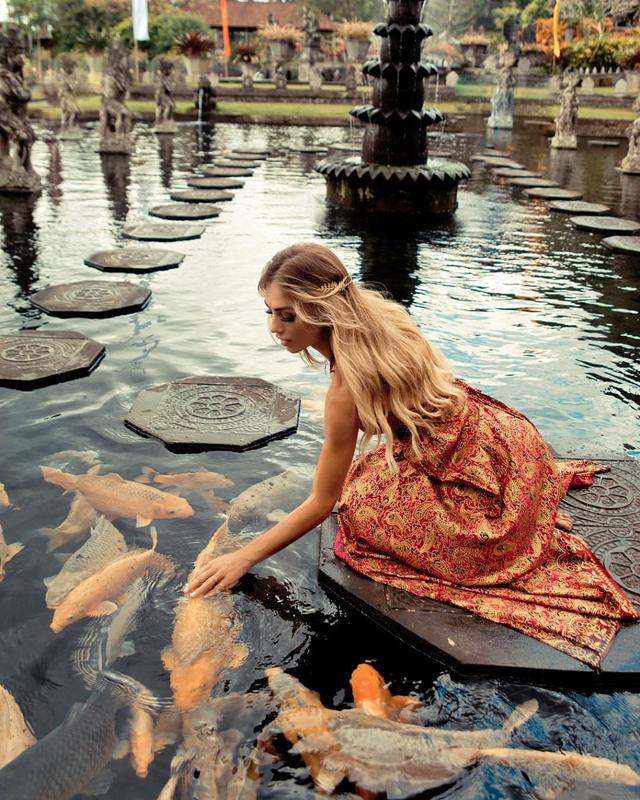 Photo by @marimalz
At Tirta Gangga, you will see beautiful Balinese water garden with ponds, fountains and lawns. This place is located in Karangasem, it takes 2.5 hours drive from Kuta. Tirta Gangga means water of the Ganges, Hinduism's holy river. It was built in 1946 during the reign of the late raja of Karangasem, Anak Agung Anglurah Ketut Karangasem. You can buy fish food before the entrance counter.
TIRTA GANGGA
Jalan Abang - Amlapura, Ababi, Abang, Kabupaten Karangasem, Bali
- Google Maps

Entrance Fees : IDR 40,000
Best time to go: early morning or late afternoon
6

Zen Hideaway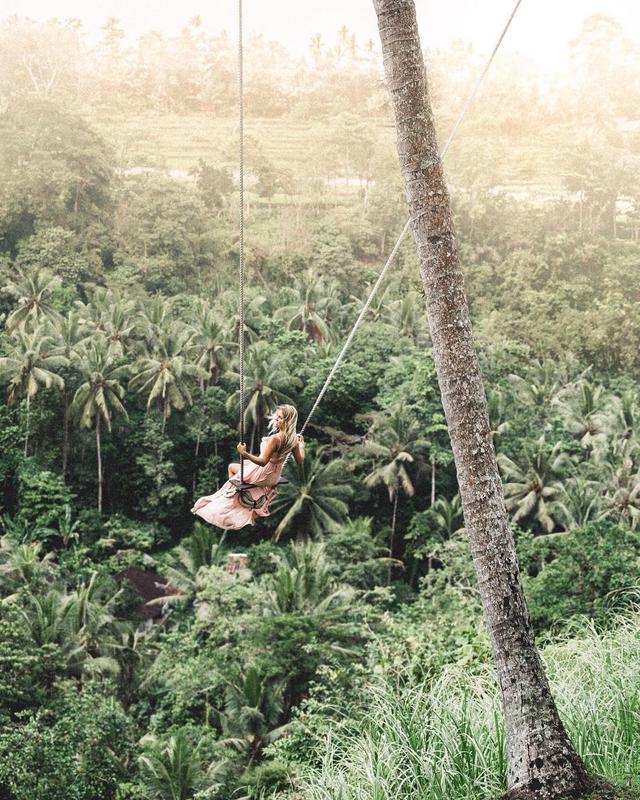 Photo by @xkflyaway
Zen Hideaway is the first place which has this swing in Ubud. For those who love adventures, challenges and extreme adrenaline-activities, you can go to area of Ayung River to find this swing. The location is on top of Ayung River, you can stay in here to use this swing.
ZEN HIDEAWAY
Jalan Dewi Saraswati, Banjar Tegalkuning, Bongkasa Pertiwi, Abiansemal, Badung, Bali
- Google Maps

Entrance Fees : You can stay over here or you can just ride the swing with cost around IDR 300,000 via airbnb
Best time to go Early morning
7

Kelingking Beach Nusa Penida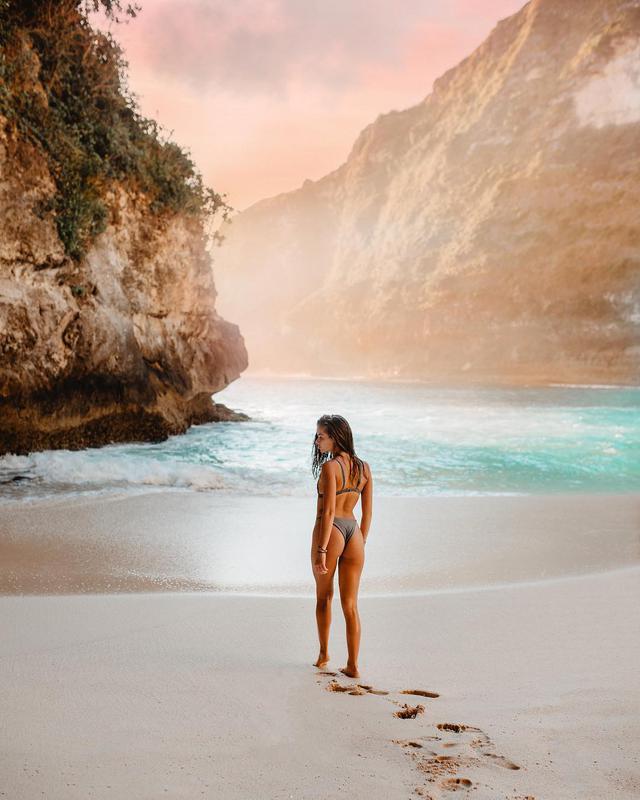 Photo by @jeffisy
Nusa Penida has so many amazing views making it hard to pick a favorite. One of the famous Instagramable place in Nusa Penida is Kelingking beach, no doubt. But if you're planning to go down to the beach, you should prepare yourself in the fit condition, because you will face very hard track hill down and very steep. Pure paradise, incredibly white sand and a piece of land shaped like a T-Rex.
KELINGKING BEACH NUSA PENIDA
Bunga Mekar, Nusa Penida, Klungkung Regency, Bali
- Google Maps

Entrance Fees : Free
Best time to go 4PM to Sunset time
8

Forest Entrance of W Bali Seminyak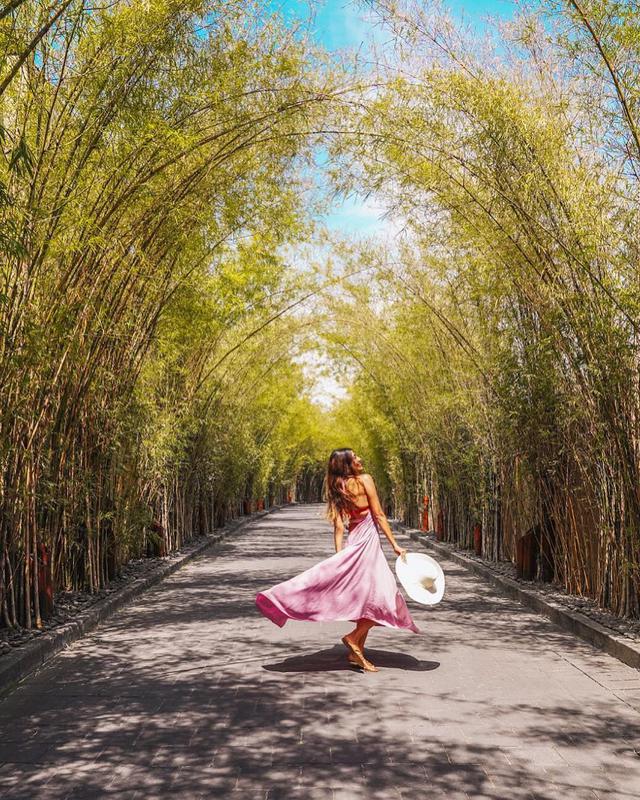 Photo by @samishome
Scenic views and beaches aside, this is a definite go-to place for insta-worthy photo to liven up your feed! The picturesque bamboo forest entrance, right outside the W Bali is a wonderful view, that became one of our favourite photo spots in Bali of all time!
FOREST ENTRANCE OF W BALI SEMINYAK
Jl. Petitenget Kerobokan, Seminyak
- Google Maps

Entrance Fees : Free
Best time to go around 3PM
9

The Monkey Bar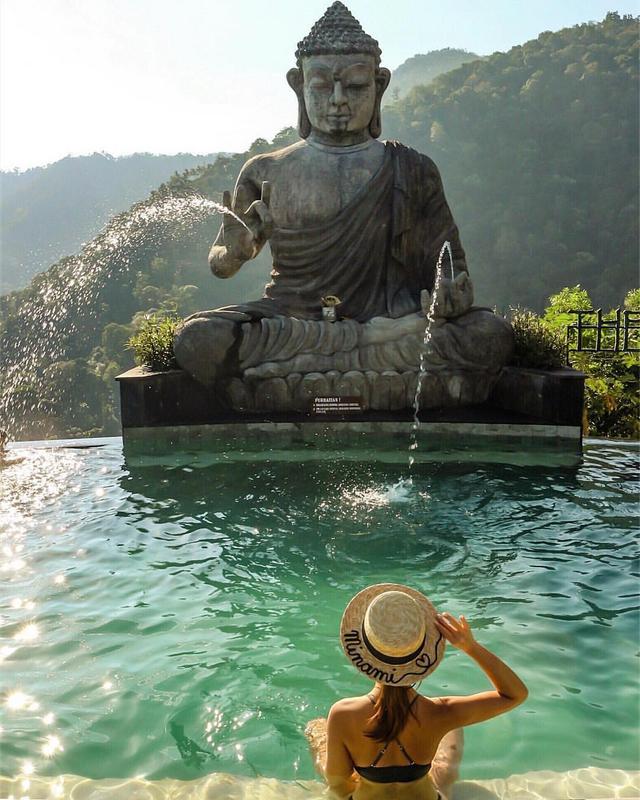 Photo by @chiiicachica
Looking for a perfect spot for swimming and chilling at the happening places in East part of Bali? Try going to this Monkey Bar and you will be welcomed by giant Buddha statue with fresh air and nice panoramic view.
THE MONKEY BAR
The Monkey Bar at Bella Vista, Jalan Bukit Abah, Besan, Klungkung
- Google Maps

Entrance Fees : IDR 50,000
Best time to go Sunset time (around 4:30PM - 6:30PM)
10

Potato Head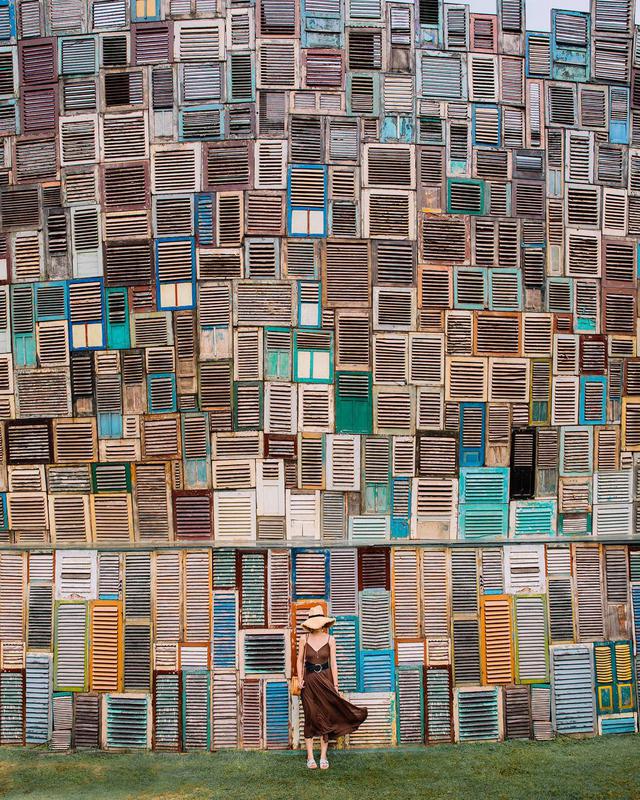 Photo by @veeceecheng
Have you ever seen so many rustic wooden windows in one place? Potato Head makes an impression even before you step inside. With its prime location and direct access to the beach, Potato Head is one of the best & popular beach club in Bali. Enjoy a day in the sun, sitting on daybed, swimming and have some snacks while waiting for sunset.
POTATO HEAD
Potato Head Seminyak
- Google Maps

Entrance Fees : Free
Best time to go Sunset time (around 4:30PM - 6:30PM)
11

Diamond Beach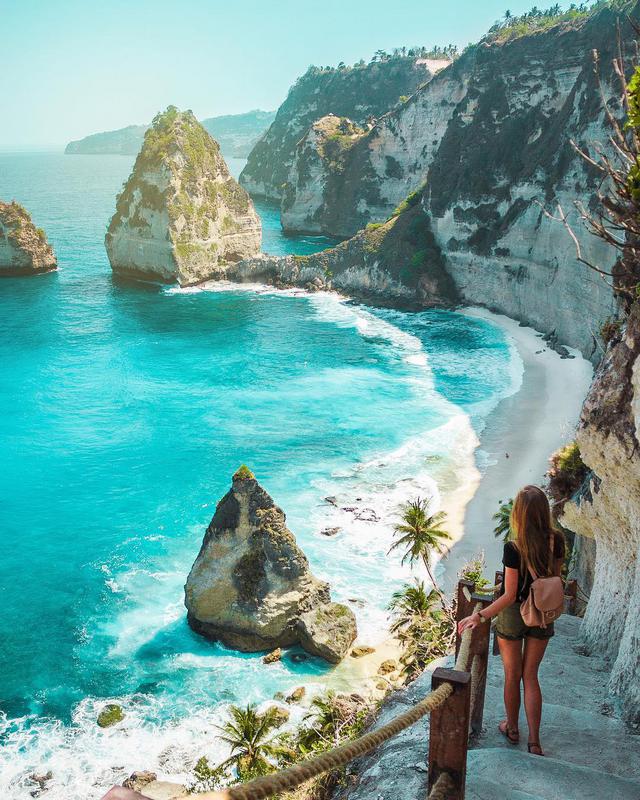 Photo by @svetakhovrina
Right next to the Atuh Beach, this untouched paradise just recently been made accessible. So now you can finally get down and enjoy this pristine and beautiful beach . It takes around an hour from Penida Port to get here, and the easiest option via Highlight of East Nusa Penida Day Trip
DIAMOND BEACH
Nusa Penida - Pejukutan - Next to Atuh Beach
- Google Maps

Entrance Fees : Free
Best time to go 11AM - 03PM
---