A dream outdoor wedding in Bali is a desire for many. Whether it is a beachside ceremony, a cliffside celebration, or a garden party, Bali is the perfect location for a destination wedding. However, budget can often be a concern. To alleviate this worry, we have compiled a list of nine budget-friendly villas in Bali that are suitable for hosting a wedding or other special event. These venues offer a range of options, including beach, cliff, and garden settings, ensuring that you can find the perfect location for your dream wedding in Bali.
1

Baliana Umalas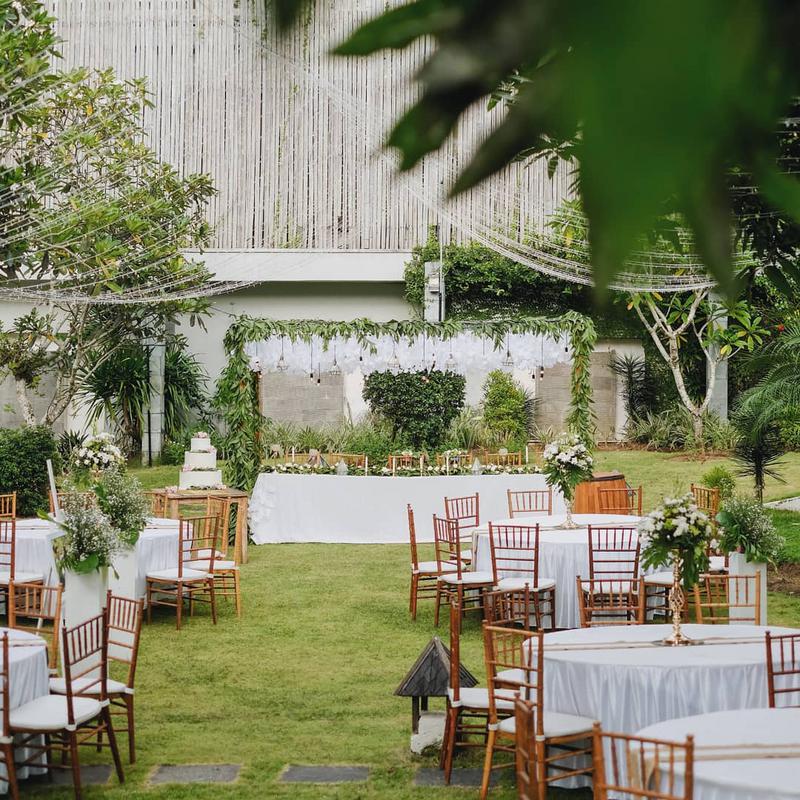 Photo by @balianavilla
Baliana Villa Umalas is an iconic garden estate in Umalas. It is four residence sit in their own well-screened 3500msq garden. It is suitable not only for weddings but for corporate gatherings, parties for family and friends to celebrate special events such as anniversaries. Baliana Villa Umalas has its own unique appeal all which have proven to be magnificent wedding and pre-wedding venues for turning your dream wedding into a reality.
BALIANA UMALAS
Jl. Umalas Klecung No 7, Kerobokan Kelod, North Kuta
- Google Maps

Price :

starts from : IDR 30,000,000++
Capacity : 150 pax seated / 200 pax standing
2

Alindra Villa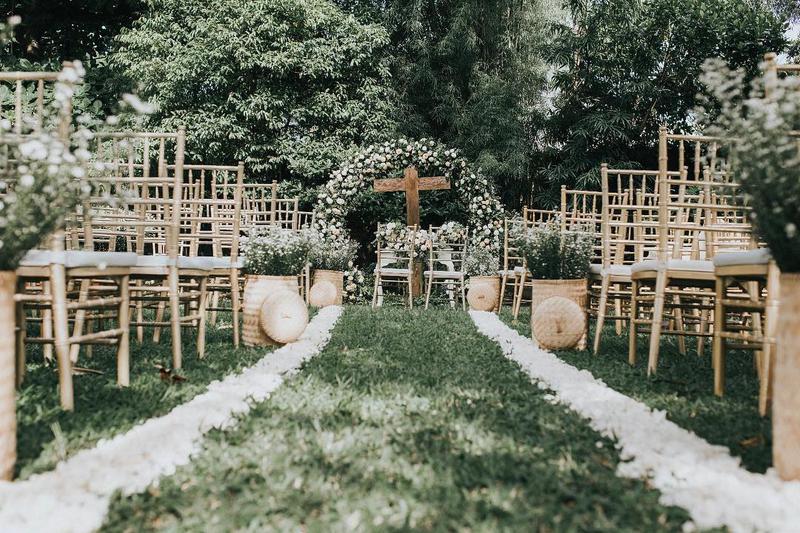 Photo by @glowplanner
Breath, live, and experience Indonesia's culture and historical architecture at Alindra Villa, located at the south peninsula of Bali. Alindra Villa has two event spaces to host weddings, engagement parties, birthdays, or cocktail parties. The event venues are at Grand Pool Villa and Terracotta Garden. Dining is provided by Terracotta Restaurant, which can be customized to your liking with advance notice.
ALINDRA VILLA
Jl. Aneka Warga No 12, Puri Mumbul Permai Jimbaran
- Google Maps

Price :

starts from : IDR 14,000,000++ venue only (complete packages are available)
Capacity : Grand Pool Villa 100 pax seated/standing; Terracotta Garden 300 pax seated/standing

3

Pandawa Beach Villa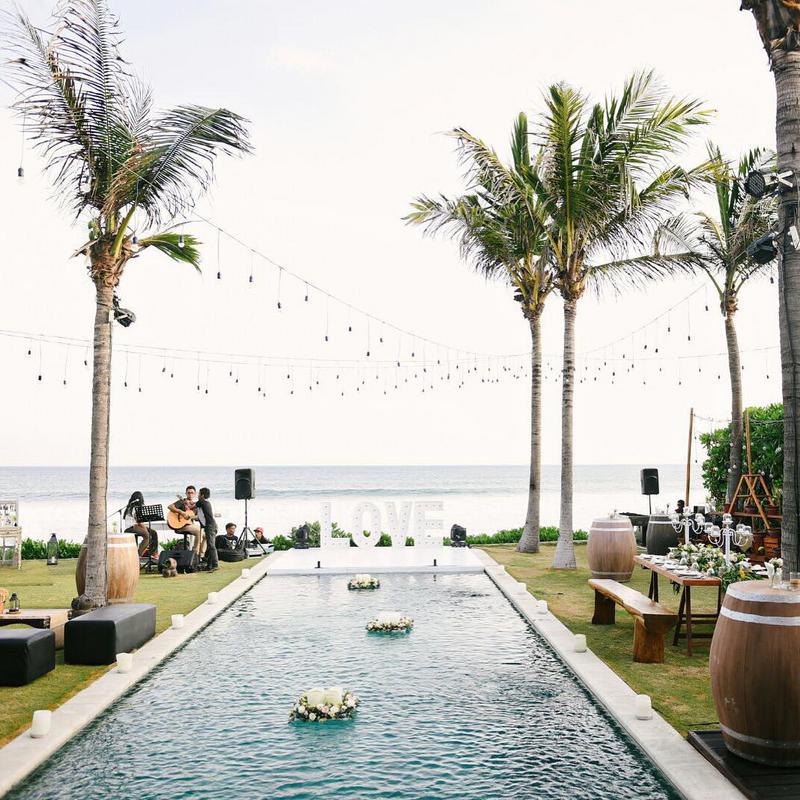 Photo by @baliweddingspecialist
This beautiful villa is a great choice if you're looking for something small and intimate. Pandawa Beach Villa is a deluxe villa complex nestled in the front of quiet Ketewel Beach, offering unrivalled views across the Indian Ocean. There are three villas available for party or small event; Arjuna, Sahadewa, and Nakula villa. It's next to the black sandy beach, so if you still wish to have those on-the-beach wedding photos, you can still get it done.
PANDAWA BEACH VILLA
Jl. Pantai Gumicik, Ketewel, North of Sanur
- Google Maps

Price :

starts from : IDR 11,500,000++
Capacity : 40 pax seated/80 pax standing
4

Pushpapuri Villa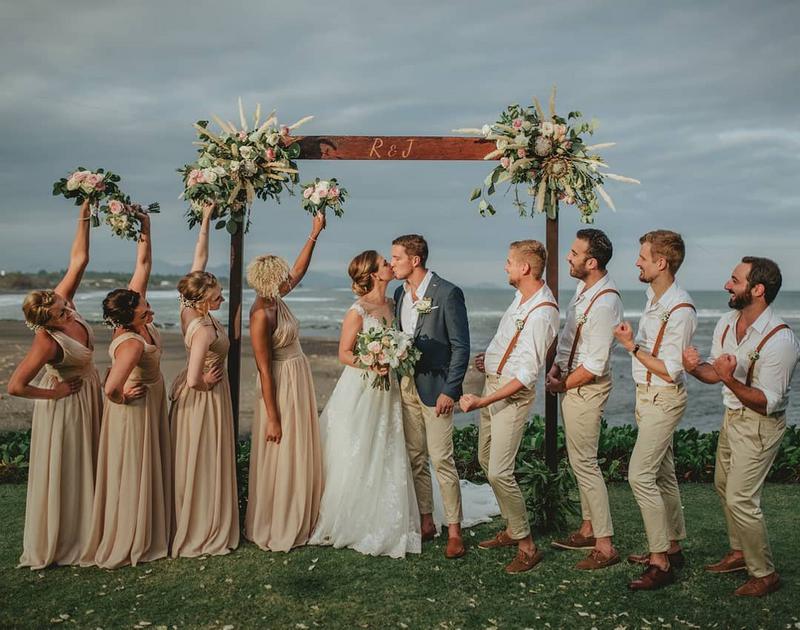 Photo by @balivipwedding
Another one in Ketewel area, Pushpapuri villa combines contemporary design with Balinese architectural elements and beautifully landscaped gardens. The sheer spaciousness of both the villa and grounds, with an abundance of outdoor areas, lawn space and the specially-built deck in front of the pool bar, coupled with the villa's gorgeous setting on the edge of the beach with the dramatic oceans views, makes Pushpapuri Villa an ideal venue for romantic weddings and other special celebrations.
PUSHPAPURI VILLA
Jl. Pantai Pabean, Ketewel, North of Sanur
- Google Maps

Price :

starts from : IDR 19,000,000++
Capacity : 70 pax seated/100 pax standing
5

Mengening Villa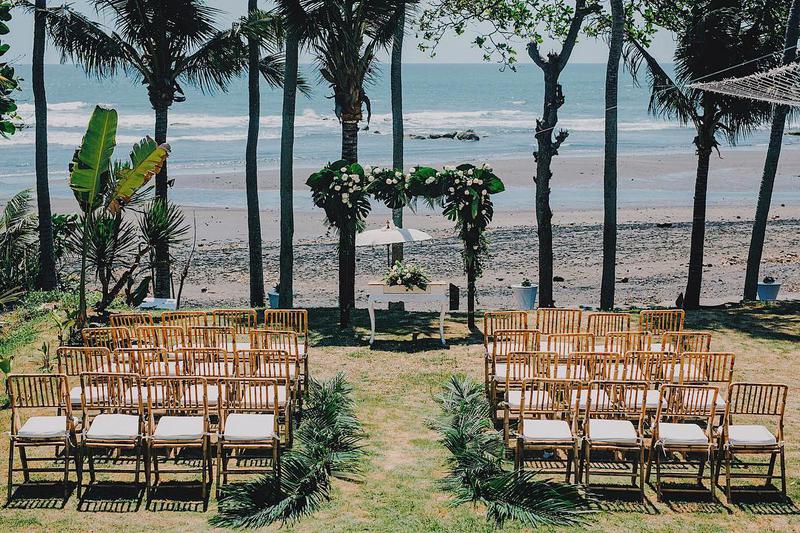 Photo by @bridesprojects
Mengening Villa was named after the peaceful beach where it's located—the place where people get away from the crowds to enjoy tranquility. Situated on the curve beach line forming an arch that gives a breathtaking panorama view of Indian ocean whilst surrounded by vast rice fields, makes this place a perfect option for tying the knot.
MENGENING VILLA
Jl. Umalalang, Cemagi
- Google Maps

Price :

starts from : IDR 12,000,000++
Capacity : 70-80 pax seated (theater style)/150 pax standing
6

Villa Kailasha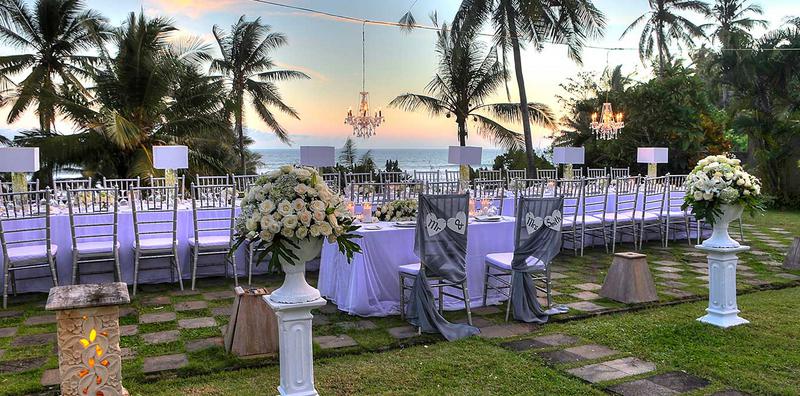 Photo by Villa Kailasha
The extensive and stunningly manicured lawns and garden, combined with the spacious living pavilion, the alfresco terrace, and the glorious sea view, make Villa Kailasha and ideal tropical setting for romantic weddings and other special celebrations, complete with entertainment and Balinese dance performance. However, the place is currently unavailable due to renovation. Unless your event will be in a couple of months, you may want to take this place into consideration.
VILLA KAILASHA
Banjar Dukuh, Desa Kelating, Tabanan
- Google Maps

Price :

starts from : IDR 12,000,000 ++
Capacity : 100 pax seated/150 pax standing
7

The Samata Sanur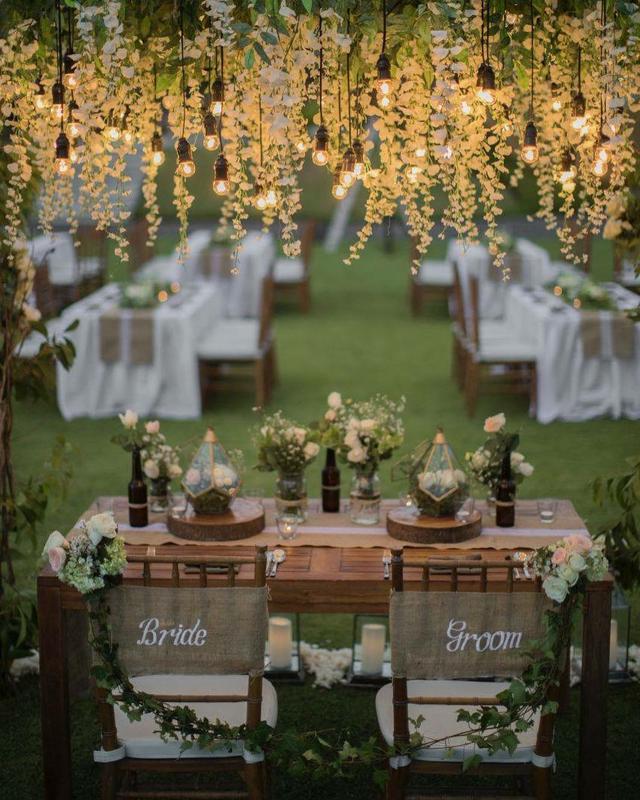 Photo by @samatasanur
The Samata Sanur is the perfect location for the most romantic Bali wedding. Whether you are planning a large-scale gala with grand banquet or a smaller, more intimate ceremony with cocktail reception, they'll make it work seamlessly for you. Think about their lush emerald lawns, cool pools, verdant rice fields within walking distance from the sparkling Indian Ocean.
THE SAMATA SANUR
Jl. Pucuk I No 67, Kesiman Kertalangu
- Google Maps

Price :

starts from : IDR 12,000,000++ (for 10 seated guests); IDR 23,000,000++ (for 30 seated guests); IDR 36,000,000++ (for 30 seated guests); IDR 45,000,000++ (for 300 seated guests, venue only)
Capacity : max 300 pax seated/600 pax standing
8

The Kunja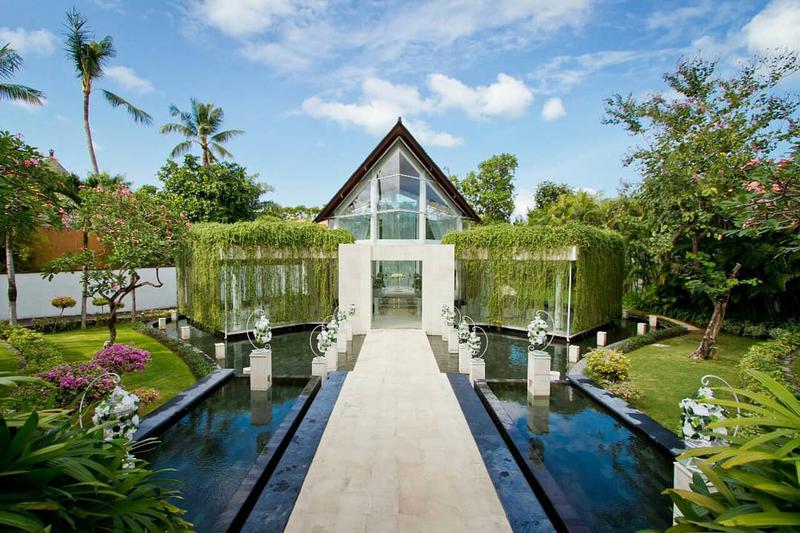 Photo by @gusma_29
What screams wedding louder than a chapel? There is one beautiful glass chapel called Santi Chapel in The Kunja perched on an island of green and enveloped by cascading terraces of water in the image of Bali's rice terraces. Choose a daytime wedding in this tropical garden under blue skies, and in the peace and quiet of the air-conditioned chapel. Or choose a nighttime wedding in the dramatic and magical Bali night, in the reflection of candlelight and amazing lighting from within the pools of water surrounding Santi Chapel.
THE KUNJA
Jl. Lebak Sari No. 8, Petitenget, Seminyak
- Google Maps

Price :

starts from : IDR 26,500,000++
Capacity : 60 pax seated
9

Villa Asada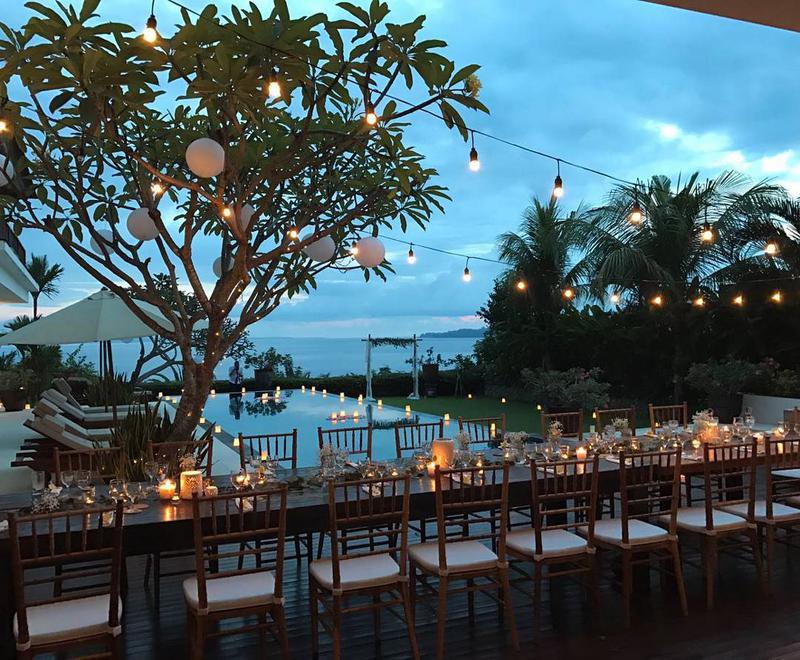 Photo by @tanjamre
Villa Asada presents the perfect setting for weddings, parties, and other special events. The extensive lawns are also ideal for open-air Balinese dance performances and parties. Catering can be managed by professional caterers who have the world-class expertise to prepare a sumptuous feast in addition to the coordination of decorations, flowers, lighting, and entertainment.
VILLA ASADA
Jl. Raya Sengkidu, Manggis, Candidasa
- Google Maps

Price :

starts from : IDR 22,000,000++
Capacity : 50 pax seated/80 pax standing
---