Ubud, located in the central part of Bali, is renowned for its rich cultural history and artistic traditions. From dance and fine art to historic markets, culinary delights, and handcrafts, Ubud offers a wealth of opportunities to immerse oneself in the culture of Bali. In addition to its cultural offerings, this traditional country town is also a popular destination for travelers seeking serenity and relaxation. To ensure that you have the ultimate experience in enchanting Ubud, we have compiled a list of nine boutique hotels that you may wish to consider for your stay. These hotels offer a range of amenities and services, providing a comfortable and enjoyable experience during your visit to Ubud.
1

Kayon Jungle Resort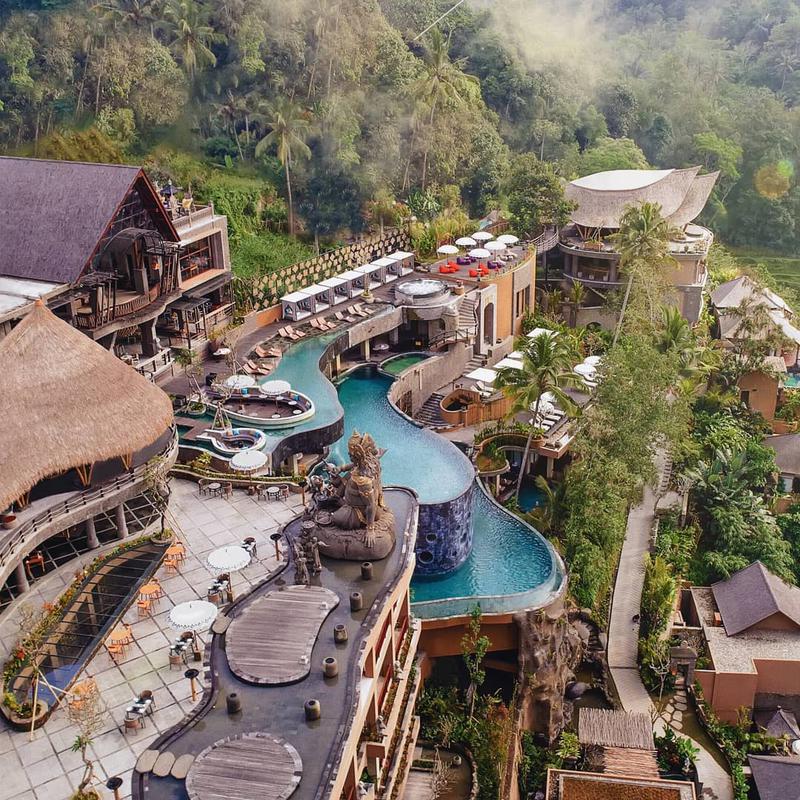 Photo by @kayonjungleresort
Looking for a luxury nature retreat? You should take Kayon Jungle Resort into consideration. Perched on Ubud hills side, surrounded by holy Petanu River and lush and tropical rainforest, this enchanting five-star boutique resort is designed in complete harmony with nature that gives relaxing vibe you'll love so much. Children under 15 years old is not permitted, though, due to their concept that is set for honeymooner, romance, healing, and relaxation.
KAYON JUNGLE RESORT
Br Bresela, Payangan, Ubud

Price :

Starts from IDR 4,350,000/room/night
Book via

2

Chapung Sebali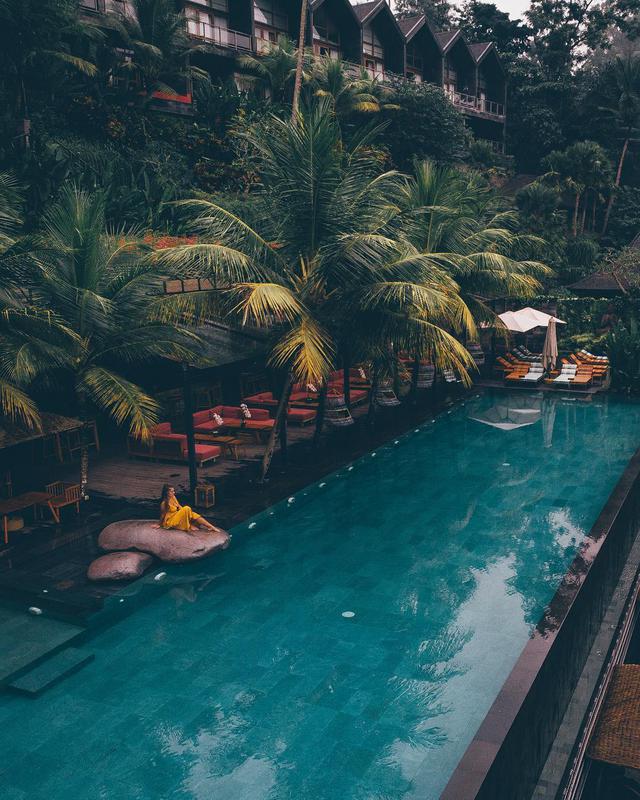 Photo by @onlyfortravel
Renowned as a unique Ubud Hotel, the eclectic boutique resort Chapung Sebali eloquently fuses traditional Indonesian architecture with a contemporary Scandinavian styling. It is a mystical place that brings together unparalleled comfort with an outstanding level of luxury service. Located just 10-minute drive from the center of Ubud, Chapung Sebali is surrounded by lush wilderness and rice fields, in an idyllic location to escape to and hide.
CHAPUNG SEBALI
Jl. Raya Sebali, Keliki, Ubud

Price :

starts from IDR 3,000,000/room/night
Book via


3

Komaneka At Bisma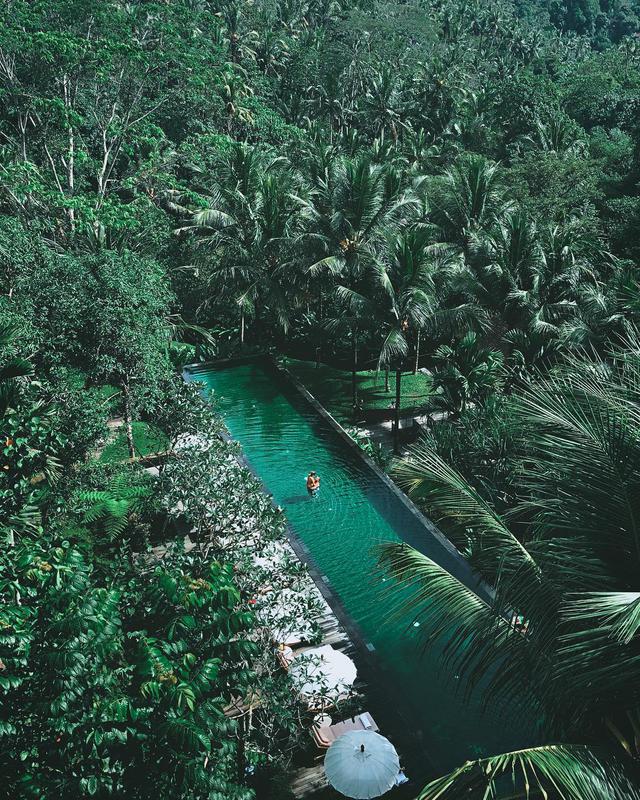 Photo by @brickello
Located on a hillside not far from Monkey Forest, Komaneka at Bisma offers clear views of Campuhan River, coconut plantations, and paddy fields. The resort is created to fulfill traveler's expectations of upscale luxury lifestyle in a spacious hotel room while being pampered by welcoming expert staff. Awarded Conde Nast Travel's hot list in 2009 and TripAdvisor's Traveler's Choice Best 25 Hotels in Indonesia and Asia 2016, Komaneka Resort is one of the best choices for your stay in Ubud.
KOMANEKA AT BISMA
Jl. Bisma, Ubud

Price :

starts from IDR 3,300,000/room/night
Book via

4

Hoshinoya Ubud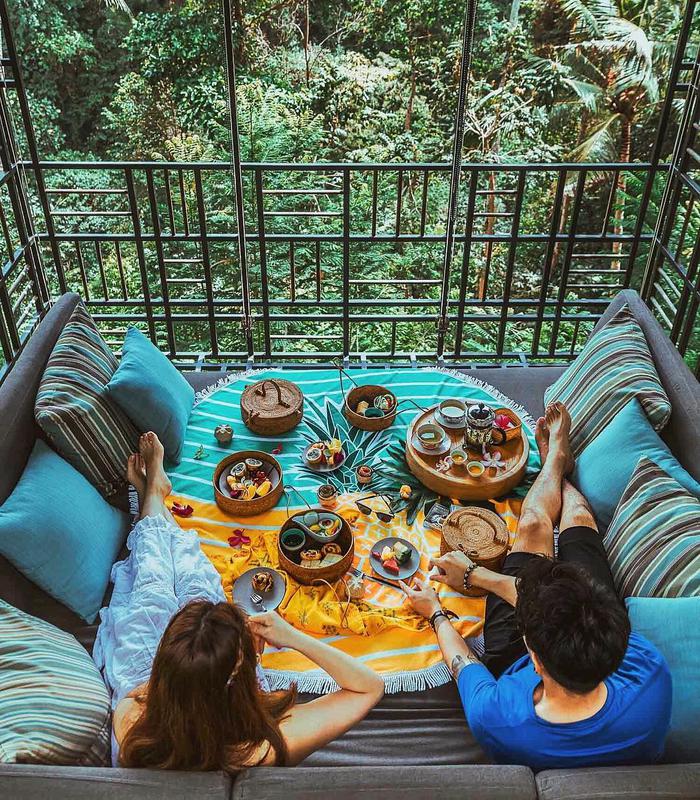 Photo by @xlbcr
Bali is home to numerous ancient palaces and water temples that create an atmosphere of elegant majesty. Their designs are rooted in Balinese Hinduism, a spiritual philosophy that emphasizes balance between human and nature—even supernatural. It is this balance that defines the wondrous delights of Hoshinoya Bali—a resort village nestled in a Balinese jungle that flourishes atop a hill, which drops off to a sacred river flowing below.
HOSHINOYA UBUD
Br. Pengembungan, Pejeng Kaning, Tampaksiring

Price :

starts from IDR 9,500,000/room/night
Book via

5

The Chedi Club Tanah Gajah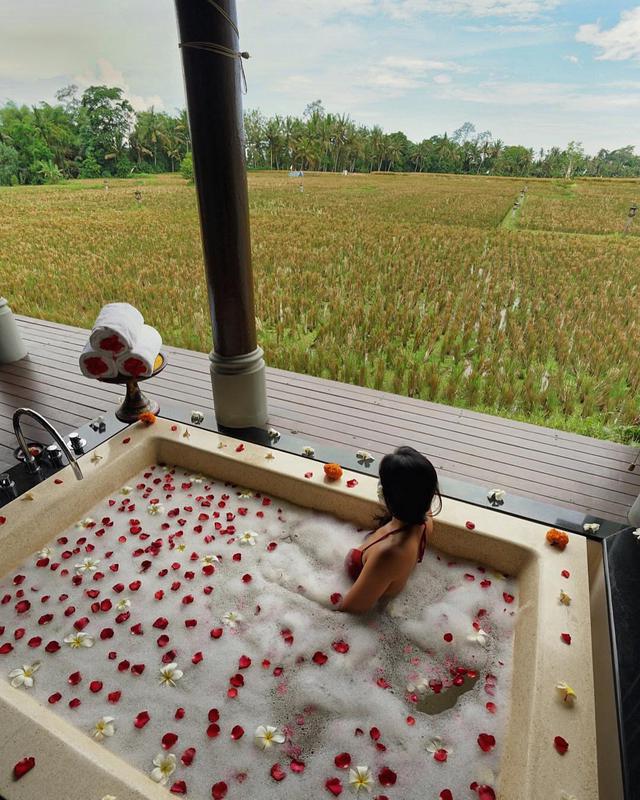 Photo by @mahakemala
Hidden among the lush undulating hills of Bali's culture-rich highlands, The Chedi Club Ubud sits among thriving rice fields as far as the eye can see. The former estate of Hendra Hadiprana—one of Indonesia's most respected art collectors—has been transformed into an intimate luxury resort with twenty individual villas, each featuring unique and original Balinese artworks from his collection. Experience breathtaking sunrises over the captivating Mount Agung and enjoy a leisurely stroll by the estate's lotus pond, home to a family of white Dutch and black Australian swans. Those seeking serenity and rejuvenation will find both in abundance at The Chedi Club Ubud. Plus they have a hot air balloon ride taking off from its rice paddies
THE CHEDI CLUB TANAH GAJAH
Tengkulak Kaja, Jl. Raya Goa Gajah, Sukawati

Price :

starts from IDR 5,800,000/room/night
Book via

6

Kamandalu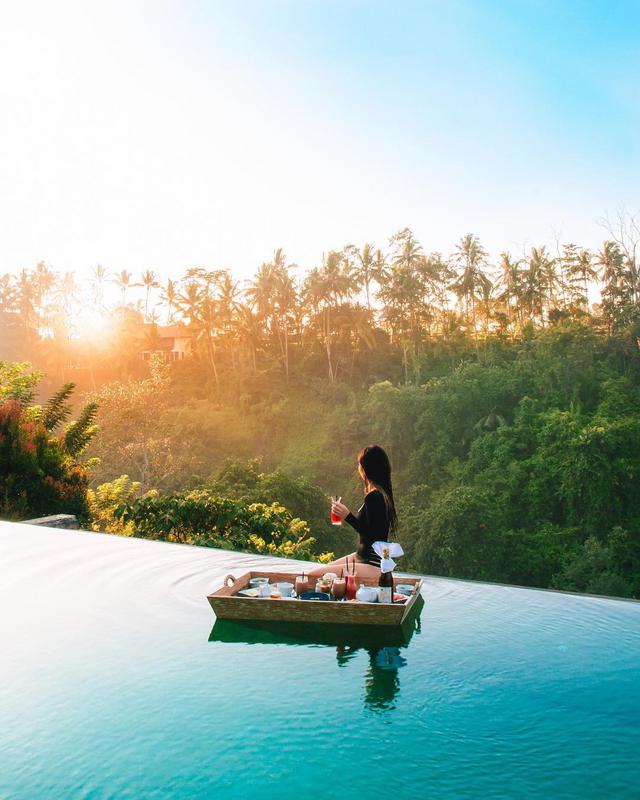 Photo by @incyvincyspider
Designed to capture the essence of a real-life Balinese village, Kamandalu Ubud is a five-star resort that blends local tradition with contemporary style. Nestled in the green foothills of Ubud, the property is a boutique sanctuary featuring exclusive villa accommodations and supporting facilities. With an extensive landscape encompassing productive rice terraces and towering coconut palms, Kamandalu Ubud lends itself to sensory indulgence.
KAMANDALU
Jl. Raya Andong, Banjar Nagi, Ubud

Price :

starts from IDR 3,050,000/night
Book via

7

Bisma Eight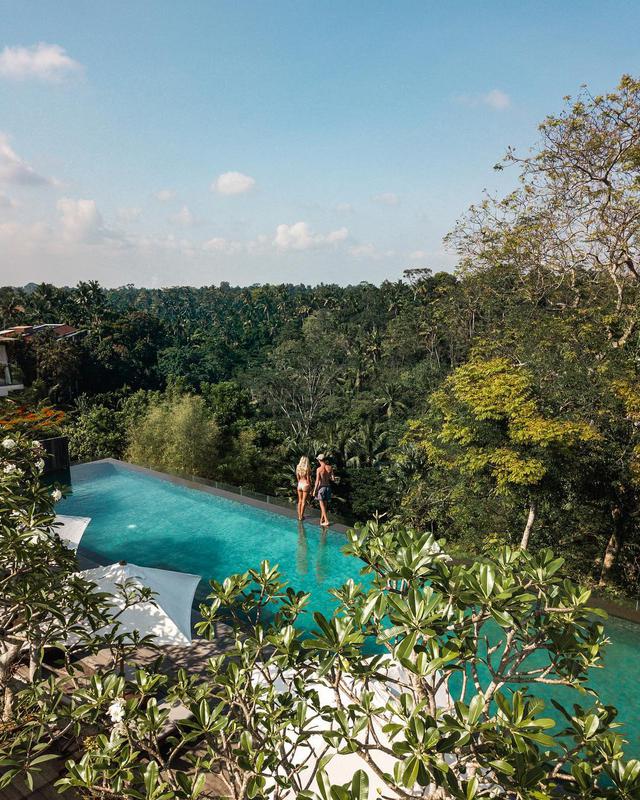 Photo by @aswetravl
Located within 10-minute walk from central Ubud, Bisma Eight is a part of unique Ubud experience. They'll help people discover and define what Ubud means to them and they strive to create singular moments that both surprising and full of delights. Ubud means differently to everyone, and Bisma Eight will share what Ubud means to them, to you.
BISMA EIGHT
Jl. Bisma no 68, Ubud

Price :

starts from IDR 3,200,000/room/night
Book via

8

Viceroy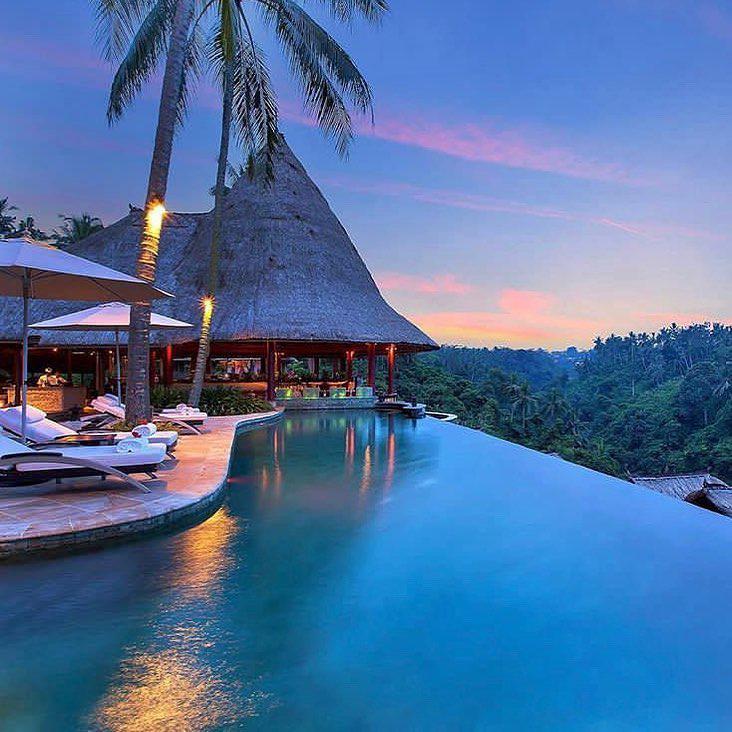 Photo by @viceroybali
Viceroy Bali is family owned and operated, a rare affair for a 5-star Bali luxury resorts. From the exclusive infinity pool overlooking the spectacular jungle ravine to the romantic villas offering absolute privacy, every detail of this tropical haven has been carefully assembled to give guests an extraordinary expression of world-class luxury.
VICEROY
Jl. Lanyahan, Br. Nagi, Ubud

Price :

starts from IDR 7,900,000/room/night
Book via

9

The Udaya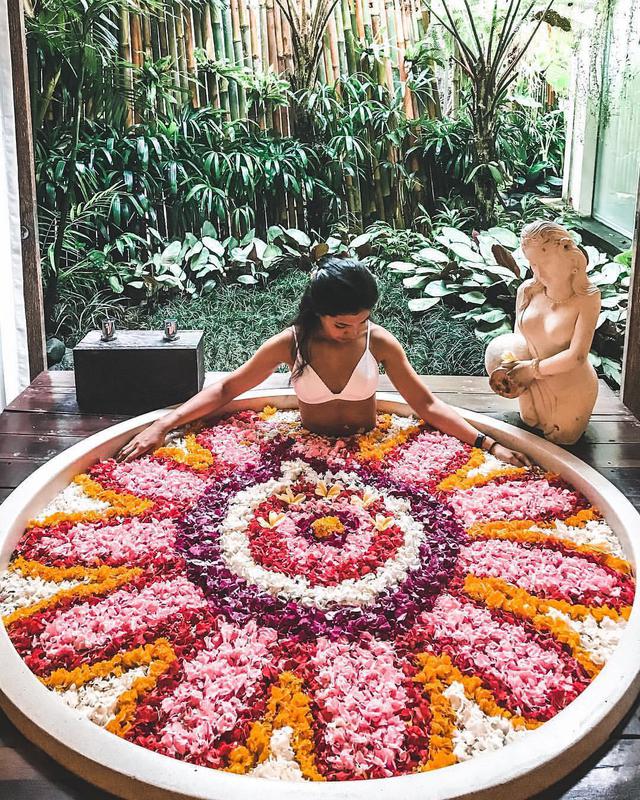 Photo by @meena_shi
Ubud has been known to be a perfect spot to renew your bond with the nature in the purest and most intimate sense with its lush span of green landscape, terraced hills and paddy fields. The Udaya Resorts & Spa premise is only seven minutes from Ubud Center and equipped with all the accommodations to ensure your comfort and relaxation. Enjoy their infinity pool as you ponder upon Ubud's greeneries. They also emphasize upon traditional Balinese elements as their main theme in architecture and esthetics.
THE UDAYA
Jl. Sri Wedari no 48B, Tegallalang, Ubud.

Price :

starts from IDR 2,200,000/room/night
Book via

---