Imagine this enticing scenario for a moment. You're luxuriously sprawled in a chic day club's cabana, savoring the tang of your choice cocktail. Your view is the grandeur of the infinite ocean, with the rhythm of music subtly threading the coastal breeze. It may feel like an idyllic dream, but let's break the suspense - it's tangible, it's exciting, it's quintessentially Bali.
Rest assured, we're here to guide your adventure. Here are some of our top suggestions for soaking in that glorious Bali sunshine at the island's premier day club. Dive in and enjoy!
1

The Monkey Bar at Bella Kita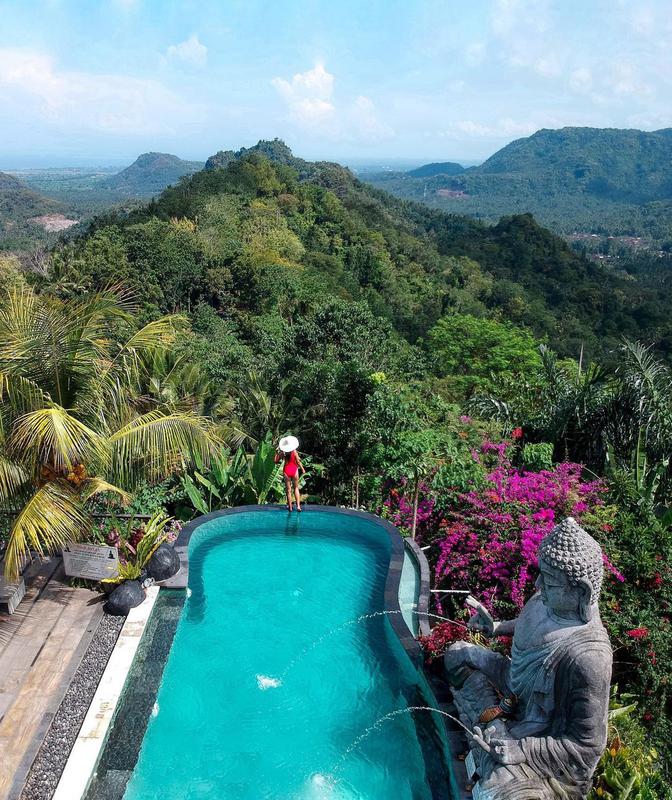 Photo by @steph_c.c
Bring your days to life at The Monkey Bar at Bella Kita, nestled in the heart of Klungkung Regency. This place, designed with you in mind, offers a charismatic ambiance to wrap yourself in. Delight in a dining experience spanning across the day, featuring snacks, global and traditional Balinese fare crafted from local, seasonal produce, some harvested right from the adjoining organic farm. Unwind by the infinity pool under the watchful gaze of a majestic 4-meter Buddha statue. Satisfaction achieved!
THE MONKEY BAR AT BELLA KITA
Jl. Bukit Abah, Besan, Dawan, Klungkung

Entrance Fees : IDR 150,000 per person

Opening Hours : 9 AM - 6 PM
Book Now
2

Jinengku Day Club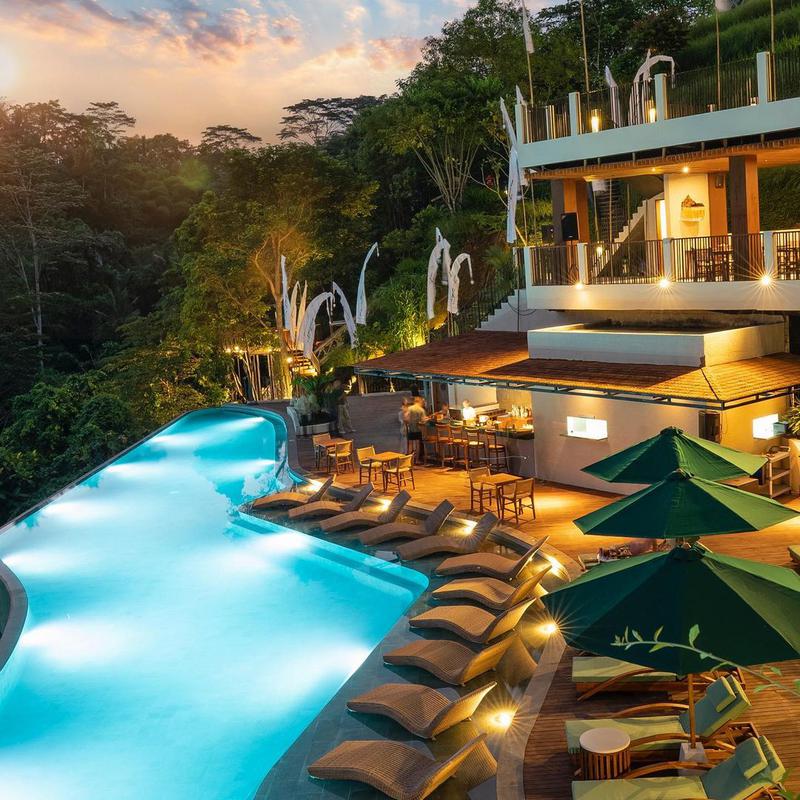 Photo by @jinengku
On the hunt for a fresh, dynamic hotspot in Ubud? Set your sights on Jinengku Day Club! With an awe-inspiring infinity pool that mirrors the verdant beauty of the encompassing tropical jungle, Jinengku stands as a sublime testament to the evolving Bali day club scene, ingeniously curated for the wanderer keen to immerse themselves in the island's authentic culture and art. Make your entrance in style with a unique jungle traversing inclinator ride, plunging you into an atmosphere pulsating with life.
Deriving its name from a traditional Balinese hut reserved for safeguarding the bounty of the rice harvest, Jinengku offers you an exquisite haven to disconnect, decompress, and delve into the refined sophistication of a tropical aura, punctuated by soul-stirring live music performances. Operating from 10AM to 8PM, surrender to the day club's expansive swimming pool, stretch out on a sun-kissed daybed, or sip on invigorating cocktails. Ready to savor the tantalizing local cuisine, bask in stellar service, and ignite sparklers in jubilation? We assure you, you'll be yearning for encores!
JINENGKU DAY CLUB
Jl. Raya Kelabang Moding Br.Kelabang Moding, Tegalalang

Entrance Fees : Free Entry, Average spending IDR 250,000 per person

Opening Hours : 10 AM - 8 PM
Book Now
3

Mrs Sippy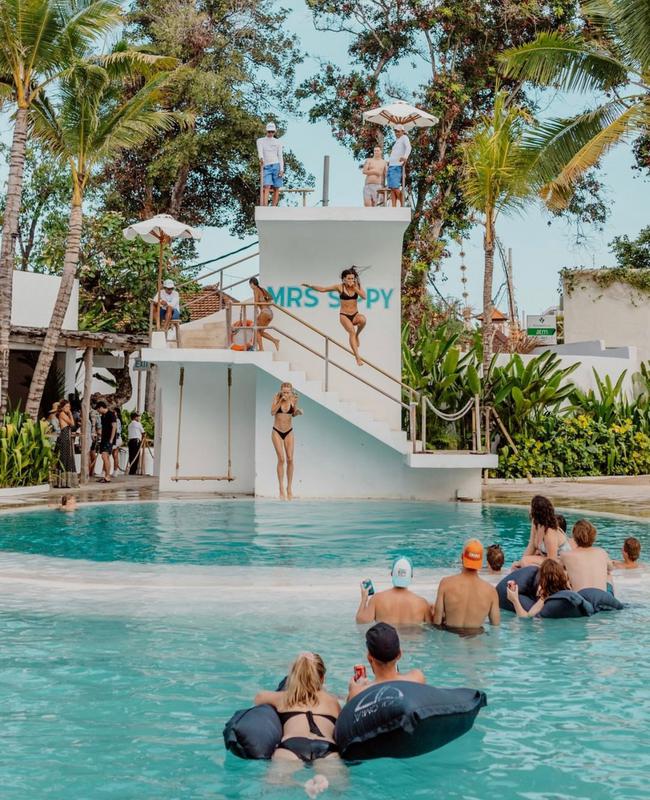 Photo by @bynicolecooper
Nestled in Seminyak, Mrs Sippy Bali is a vibrant, modish day club for the fun-seekers. It houses an expansive pool with unique diving platforms of varied depths (1, 3, and 5 meters), set amidst an atmospheric, chic backdrop. Here, relaxation, socializing, and entertainment take center stage. Revel in the expansive azure pool, encircled by ample sunbeds and cabanas that sculpt a tropical haven for basking in the sun. With its sleek Mediterranean-influenced design, whitewashed walls, and vivid accents, Mrs Sippy Bali radiates a relaxed yet chic aura. This is, indeed, a slice of paradise on earth!
MRS SIPPY
Jl. Taman Ganesha, Gang Gagak 8 Kerobokan, Seminyak

Entrance Fees : IDR 100,000 per person

Opening Hours : 10 AM - 9 PM
Book Now
4

Wanna Jungle Pool & Bar (Adults Only)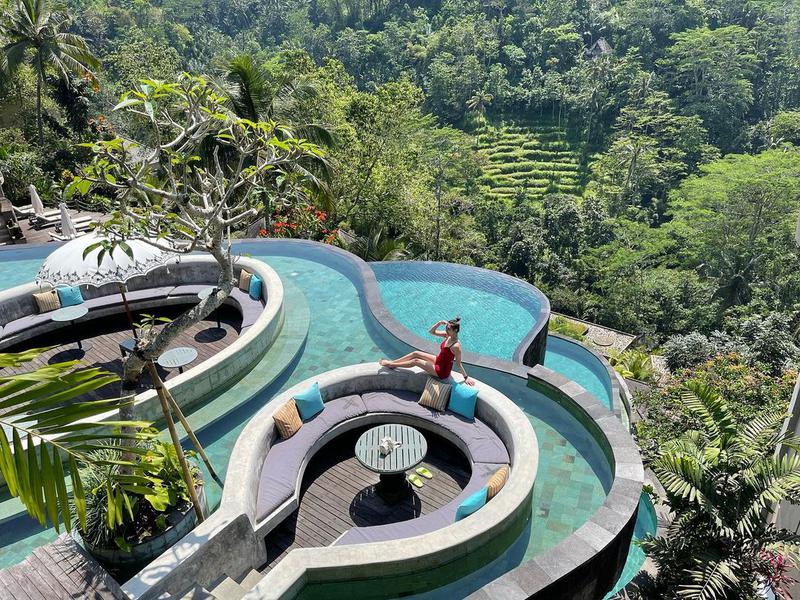 Photo by @vincajovany_oey
Nestled in Payangan, Gianyar, this exceptional venue marries a verdant jungle ambiance with an iconic three-tier infinity pool, forging a breathtaking haven for rest and revelry. Encased in lush greenery, the pool offers a cooling refuge from Bali's warmth while revealing awe-inspiring panoramic views.
Take a dip, laze on the sunbeds or enjoy a poolside cocktail—every element harmoniously converges to craft an irresistible experience. From revitalizing cocktails to appetizing nibbles, there's a tantalizing delight for every taste. And yes, we're smitten by every delectable morsel.
WANNA JUNGLE POOL & BAR (ADULTS ONLY)
Banjar, Desa, Bresela,. Payangan

Entrance Fees : IDR 300,000 per person

Opening Hours : 11 AM - 11 PM
Book Now
5

Standing Stones Bali (Adults only)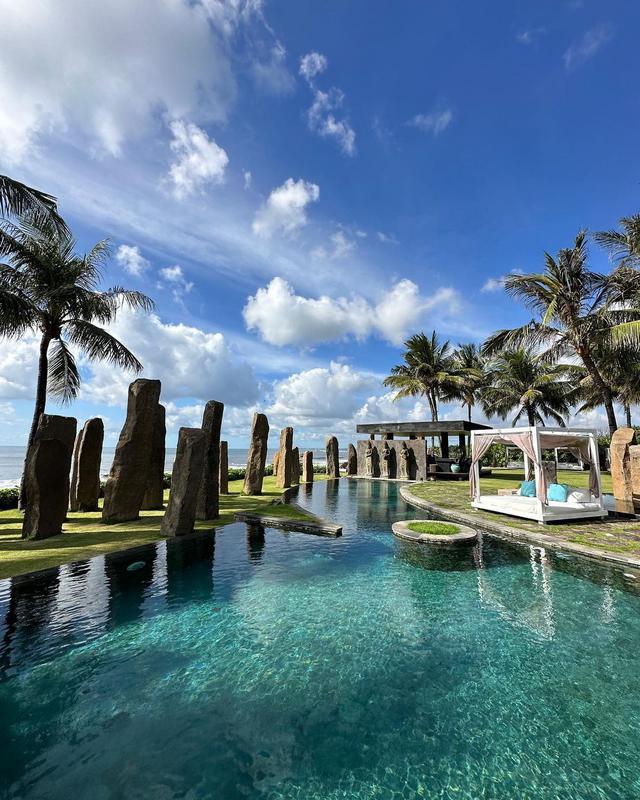 Photo by @standingstonesbali
Gracefully perched within The Royal Purnama Resort Gianyar, Standing Stones Restaurant & Beach Lounge is a spectacular open-air haven. Its captivating freeform pool seems to fuse with the sea and sky. The all-day casual dining delights with Western classics and Asian gems, served by our devoted staff.
Welcome, day guests, to a world of oceanfront dining featuring Western, Asian, Keto, and Vegan culinary delights. Standing Stones, with its breathtaking ocean views, exquisite fare, and sultry ambiance, is the quintessential day club. Framing a stunning black sand beach, it promises a memorable, must-have Bali experience.
STANDING STONES BALI (ADULTS ONLY)
Jl. Pantai Purnama, Sukawati

Entrance Fees : Minimum Spending IDR 200,000 per person

Opening Hours : 10 AM - 10 PM
Book Now
6

Kabana Ubud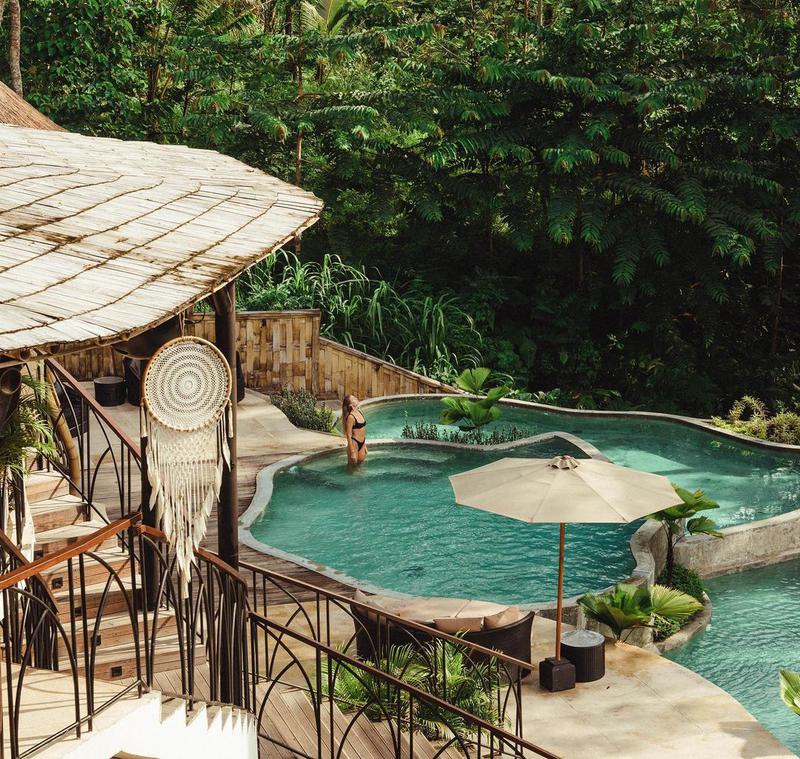 Photo by @kabanaubud
Embracing Ubud's captivating jungle with its four-tiered structure and eight shimmering pools, Kabana Jungle Club is a celebration of life and nature. This exotic retreat, cascading down the ravine to the river, tempts visitors with an array of dining and drinking options. Host to exclusive events featuring world-renowned DJs, it becomes a magical arena for unforgettable celebrations, crowned each night with an entrancing laser show painting the slumbering jungle.
A triumph of design, Kabana exudes architectural elegance, crafted masterfully from bamboo. Its towering ceilings add to the allure of the multi-leveled venue, adorned with dreamy pools and candlelit pavilions. The restaurant, in its monochrome simplicity, exudes an effortless charm, fusing glamor and minimalism into a stunning visual treat.
KABANA UBUD
Jl. Raya Cebok, Kedisan, Kec. Tegallalang, Ubud

Entrance Fees : Minimum Spending IDR 500,000 ++ per person

Opening Hours : Sunday - Thursday 11 AM - 8 PM, Friday & Saturday 11 AM - 2 AM
Book Now
7

Omma Day Club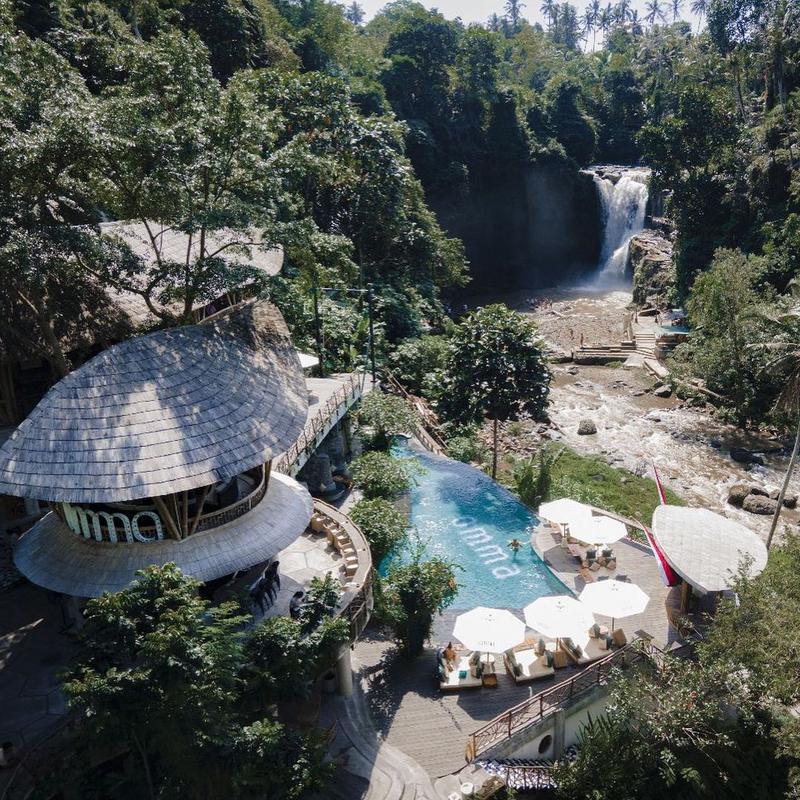 Photo by @ommabali
Imagine relishing a sumptuous meal and beverage, mesmerized by a grand waterfall's spectacle - that's Omma Bali's promise. Nestled by the Tegenungan waterfall in Gianyar Regency, Omma Day Club is a true treasure. The waterfall's purity immerses us in a symphony of natural delight, as the comforting fare and drinks satiate us, and the river's refreshing aroma envelops us.
A cozy outdoor lounge presents a curated array of champagnes, fine wines, and gourmet dishes crafted from the island's freshest produce, all savored amidst a unique, welcoming ambiance that truly feels like home.
OMMA DAY CLUB
Kemenuh, Sukawati

Entrance Fees : Free Entry

Opening Hours : 10 AM - 9 PM
Book Now
8

Alternative Beach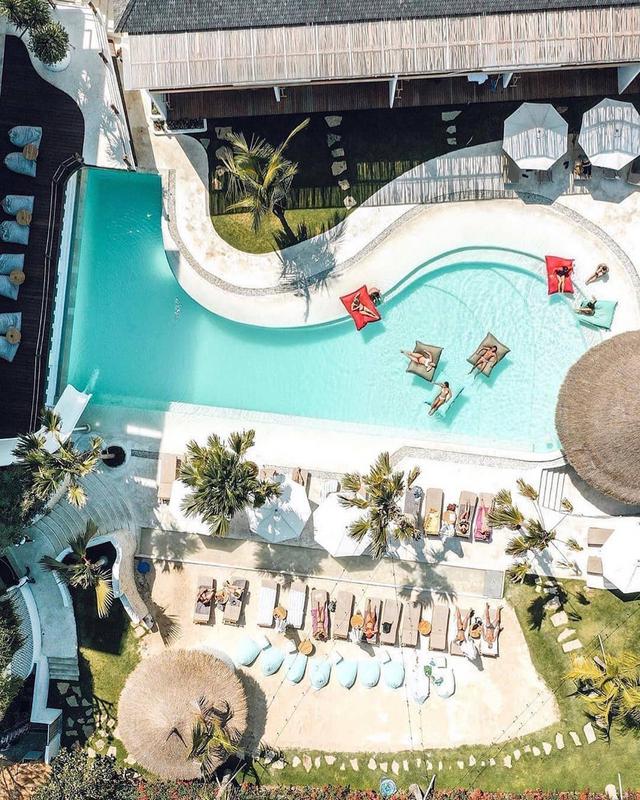 Photo by @alternative_beach
Unleash your spirit of adventure at Alternative Beach, an exceptional daytime oasis nestled in the vibrant heart of Canggu. What sets this extraordinary establishment apart is its unique combination of diverse experiences - it's not just a day club but a haven boasting a hostel (Kos One Hostel), private rooms (Canggu Village Accommodation), and a charming café (Eat Me).
Picture a quintessential sunset: lounging on the café deck, bobbing in a pool bean bag, or perched at the swim-up bar, cocktail in hand, and swaying to hypnotic beats. Their irresistible signature cocktails cater to all palates. And for an indulgent treat, savor the breathtaking pool view from their open-air café. You'll thank us later!
ALTERNATIVE BEACH
Jl. Pantai Batu Bolong No.78, Canggu

Entrance Fees : IDR 100,000 per person

Opening Hours : 7 AM - 7 PM
Book Now
9

Byrd House Bali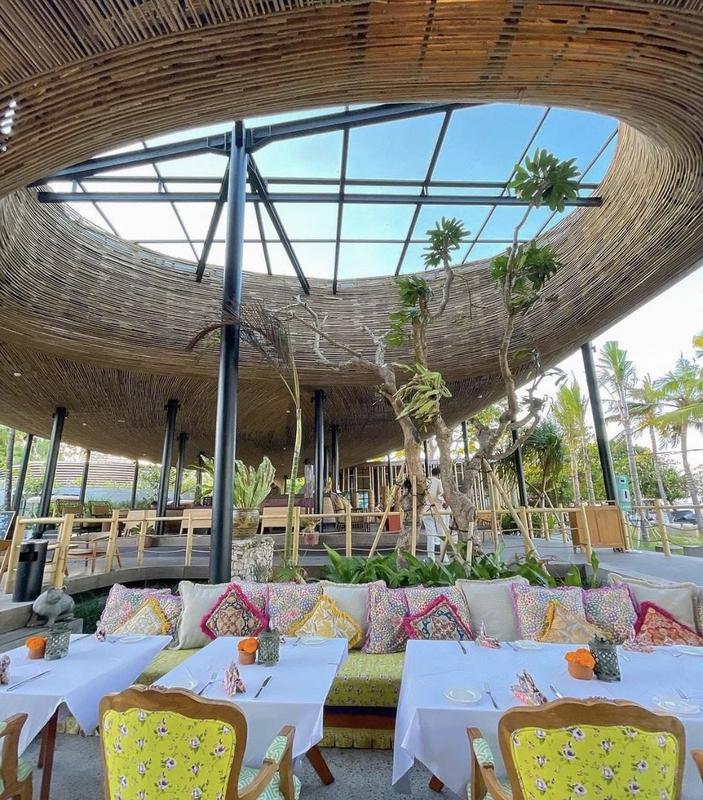 Photo by @byrdhousebali
Embracing the heart of Sanur's Segara Village, Byrd House emerges as an exclusive retreat that offers an electrifying blend of social buzz, pampering and style for all. It's a vibrant hotspot, whose unique energy, chic decor, and exemplary experiences elevate Bali's beach house milieu to exhilarating new highs.
Famed for their mixology prowess, Byrd House's bartenders deliver tantalizing cocktails catering to all tastes. Kick back on a sun lounger, savor the scenic views, and bask in bliss under the palm fronds surrounding the sprawling 215 sqm pool, while their attentive staff serve up refreshing drinks and poolside snacks!
BYRD HOUSE BALI
Jl. Segara Ayu, Sanur

Entrance Fees : Free Entry, Average Spending IDR 200,000 per person

Opening Hours : 6.30 AM - 11.30 PM
Book Now
10

Single Fin Uluwatu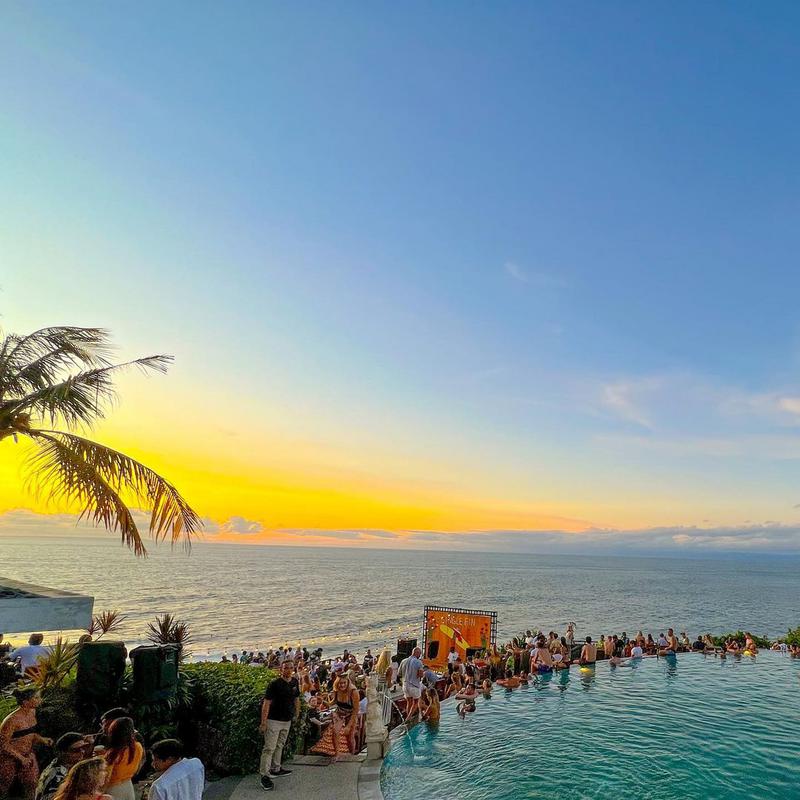 Photo by @singlefinbali
Perched cliffside, Single Fin Uluwatu boasts unparalleled views of the Indian Ocean, celebrated for its electric atmosphere and mesmerizing sunsets. Its enviable position above Uluwatu's surf break offers a front-row spectacle of surfers taming the waves below, crafting an exquisite canvas for the venue regardless of your surfing prowess.
Known for its vibrant sunset sessions, Single Fin draws crowds with local and international DJs spinning an eclectic mix of house, electronic, and reggae, sparking an energetic ambience ideal for dancing and socializing.
SINGLE FIN ULUWATU
Uluwatu, Pantai Suluban, Jl. Labuansait, Pecatu

Entrance Fees : Average Spending IDR 150,000 per person

Opening Hours : 8 AM - 10 PM, Wednesday & Sunday 8 AM - 12 AM
Book Now
11

Valle Paddy Club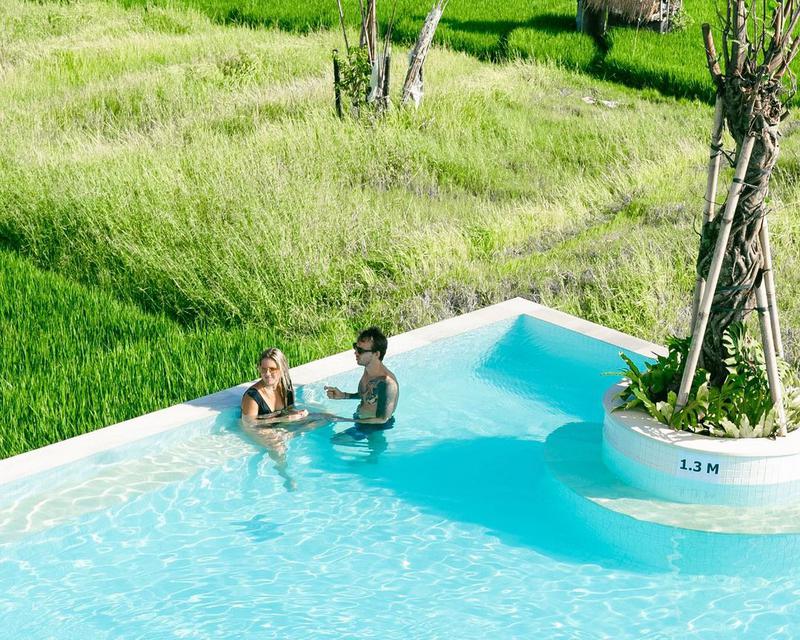 Photo by @vallepaddyclub
Amid Canggu's serene paddy fields, Valle Paddy Club pays homage to Bali's untouched splendor. This new entrant in Canggu's day club sphere offers bars, eateries, and lounges infused with relaxed elegance and a touch of opulence.
Delight in an array of Japanese fusion dishes, or lose yourself to the rhythms of live DJ performances as the sun dips below the horizon. Influenced by the unique Balinese paddy landscapes, Valle Paddy Club provides the perfect setting for limitless relaxation, complete with entertainment, wellness amenities, and their photo-worthy pool for sun-soaked lounging.
VALLE PADDY CLUB
Jl. Canggu Padang Linjong No.23, Canggu

Entrance Fees : Free Entry, Average Spending IDR 200,000 per person

Opening Hours : 9 AM - 10 PM
Book Now
---